Trends in Consumer Behavior for SVOD Users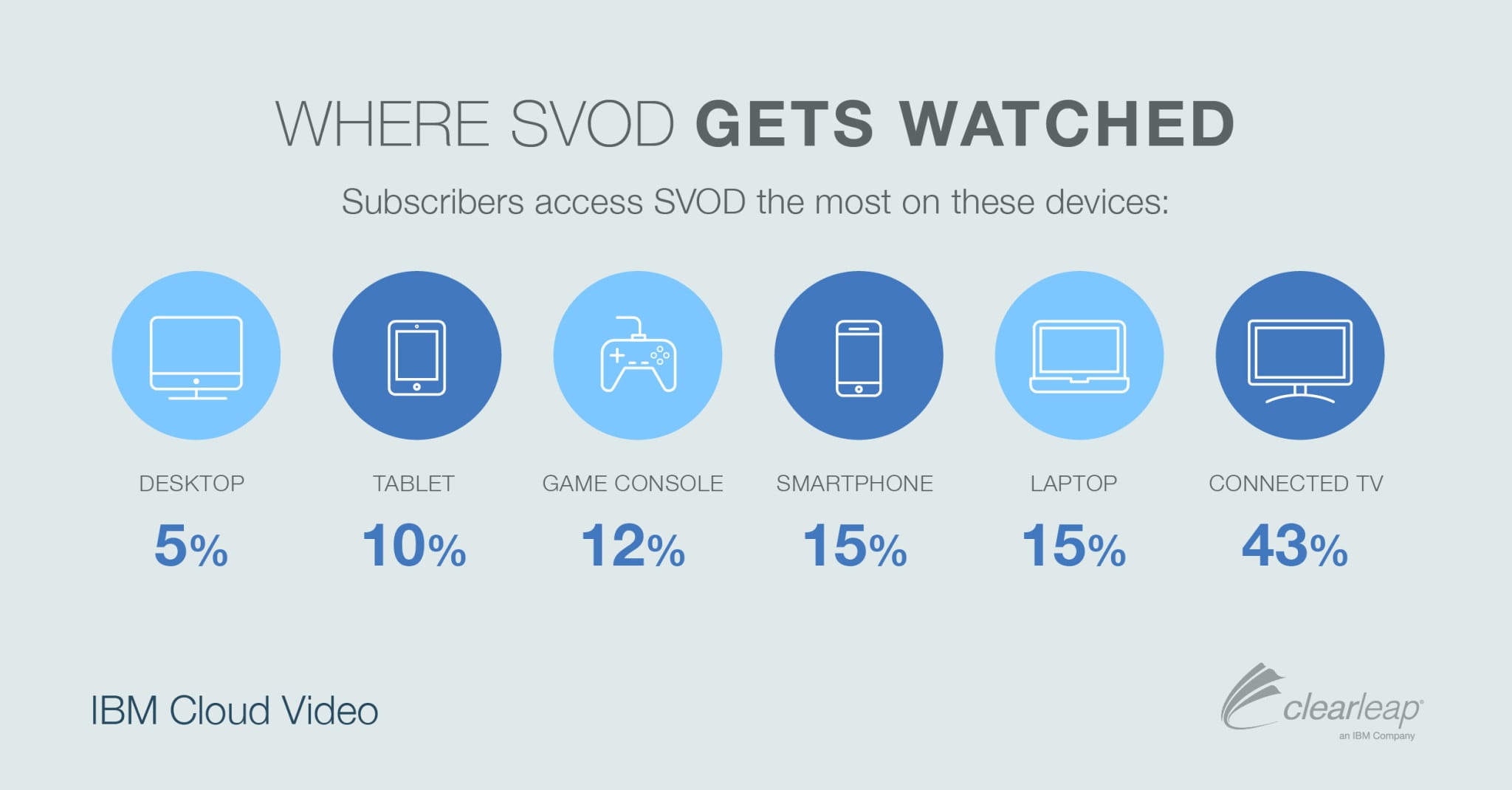 Subscribing to an SVOD service has become so prevalent that it's often looked at as more of a complement to TV rather than a replacement. Out of a group of 1,000 U.S. consumers surveyed in IBM's Cloud Video report, about two thirds reported that they use an SVOD service. And when asked which service is watched more, between cable TV and the streaming service, the numbers showed parity: 24% said cable TV, 24% said their streaming service, and 52% said both equally. The report, Everybody Wants to Rule the Streaming World, looked at consumer behaviors relating to SVODs, such as reasons for cancelling service, pain points, password sharing and more.
Churn
When it comes to canceling an SVOD service, the main reasons for doing so were too many ads (27%), the cost (25%), lack of good content (20%) and technical problems (17%)—specifically buffering (49%) and delayed start (24%). But cancellation does occur both actively and passively. 16% of respondents said that they lost their subscription because they received a new credit card and did not update their billing information. This number is even higher, at 28%, for 30-44 year olds. But deliberate cancellation is, as one would expect, more common: 31% of people with an SVOD service have canceled one at some point, with 40% saying that they've cancelled Amazon or Hulu in the past—versus 30% who had cancelled Netflix.
Password Sharing
Sharing login credentials has long been the bane of industry executives, as it impedes monetization and limits the possibility of presenting a clear data picture of SVOD viewership and habits. The report said that 27% of respondents have shared passwords, but 42% said it was shared with family members. Just 4% said they shared with friends and others, and 48% of people surveyed said they didn't share at all.
Devices
The device on which respondents preferred to watch SVOD services was overwhelmingly connected TVs (43%), followed by laptops (15%), smartphones (15%) and gaming consoles (12%). Delving deeper in demos, the report showed that millennials prefer laptops (23%) and smartphones (16%) but 30-44 year olds like smartphones (18%) and tablets (12%).
Challenges
While SVODs are exceedingly popular, obstacles to being fully satisfied with the experience remain. The biggest challenge to people watching video on mobile phones or tablets is the small screen (49%), followed by mobile data caps (20%), WiFi issues (7%) and the inability to find shows on mobile screens (4%). Just 21% of those surveyed said there were no issues at all.