Skinny Bundle Preference Among Top 3Q Video Trends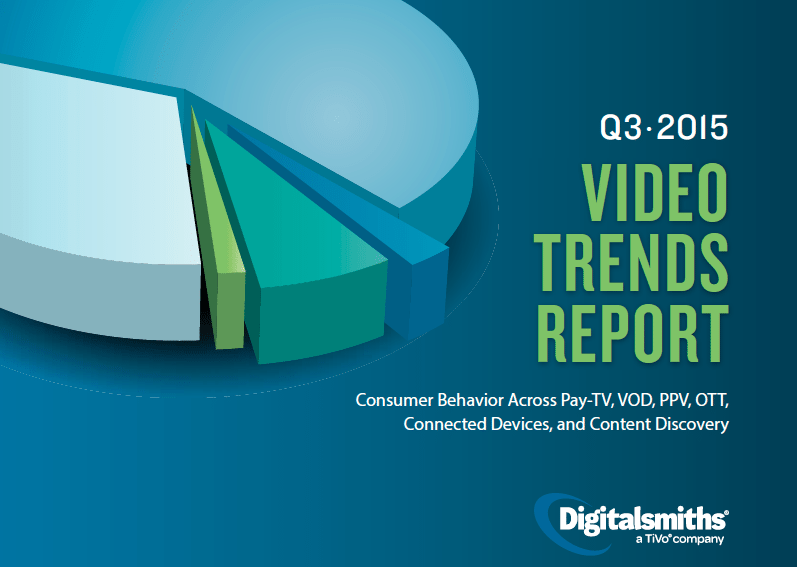 TiVo's analytics unit Digitalsmiths released its Q3 Video Trend Report Wednesday, which surveyed more than 3000 consumers 18+ across the U.S. and Canada. The research found 76.7% of respondents would like the ability to pay for only the channels they watch. The survey presented respondents interested in an à la carte service with a list of over 75 popular channels that are typically included in pay-TV packages and asked them to pick their desired channel lineup.
On average and for the third quarter in a row, respondents chose 17 to 18 channels to make up their ideal lineup. The top five channels selected were ABC, Discovery Channel, CBS, NBC, and History Channel. The average price respondents want to pay for their desired channels is $40.50. For their existing liner bundles, 33.9% of respondents said they are overwhelmed by the number of channels available to them, an increase of 1.8% YOY and 4.9% over 2 years. Most of the respondents said they watch the same channels over and over again. However, a positive trend is the percentage of respondents who watch the same channels regularly decreased 1.6% q/q and 2.8% over 2 years. About 83% of respondents watch up to 10 channels, up 2.1% YOY and 2.3% over 2 years. Those who watch 11 or more channels decreased 2.1% YOY and 2.3% over 2 years.
When it comes to discovering content, 58.2% of respondents answered it is "easy" to find something they want to watch. When comparing the growing trend of respondents who are overwhelmed with the number of channels with the actual channels respondents view, the survey results show that people are increasingly watching fewer channels on a regular basis. VOD is a bright spot, with 66% of respondents saying it's easy to find content from their provider's VOD catalog. That's an increase of 21.9% YOY. Regarding SVOD players, Netflix was the most popular service, with 49% of survey respondents saying they use it on a monthly basis, followed by Amazon Prime at 19.9%, Hulu at 12.1% and HBO Now at 4.3%. The majority of respondents said it's easy to find content on these subscription services.
In 3Q, 43.1% of respondents said they are aware their pay-TV providers' TVE offering, up 1.5% YOY. However, a large chunk of respondents (43.3%) still need to be educated on their TVE services. In terms of usage, nearly 24% of respondents have their pay-TV providers' TVE offering, up 4.3% over 2 years. Of those who use their provider's TVE offering, 41.8% do so on a weekly basis. The largest group of weekly users is 9.7%, representing those who use their TVE offering daily, an increase of 1.2% YOY.