SCTE Cable-Tec Expo: Energy 2020 Major Focus Moving Forward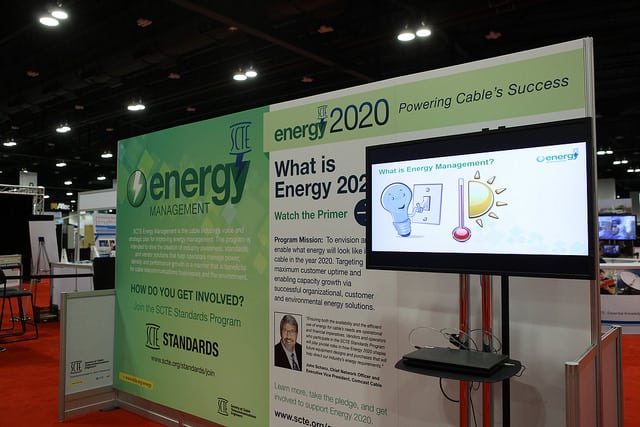 SCTE will become more proactive in driving standards and best practices for cable in energy management and availability. That was the message from Cable Tec-Expo's Energy 2020 program presentation Wednesday in Denver. And Comcast executive vice president John Schanz, who led cable's Energy 2020 campaign, has some ambitious goals.
"We want to reduce power consumption by 20% on a unit basis…achieve energy cost reduction by 25% on a unit basis…reduce grid dependency by 10%…[and] also optimize technical facilities and data center footprints by 20%…" Schanz said. "It's not as if we are in a crisis today, but if we keep operating the way we operate today, we could end up in a place that's not all that attractive when it comes to energy," he said. What can cable accomplish today? According to Schanz, it's about energy reduction, improving efficiency in critical facilities, equipment and outside plants, sharing and establishing best practices and tactics, and adopting SCTE's energy standards. Moving forward, cable should focus on improving network performance, having greater capacity and optimal density, as well as lower unit energy consumption. Schanz challenged cable to achieve 10 times the capacity while holding feature and performance parity and all within today's environmental energy footprint.
To achieve the goals, SCTE's Energy 2020 program will feature the "energy efficiency" initiative. It seeks to provide MSOs with a variety of "low hanging fruit" energy savings recommendations that have minimal upfront cost, easy implementation and reasonable return on investment, said Ivan Lamoureux, vice president of network engineering at Suddenlink, who will be leading the initiative. It aims to be "SMART": specific, measurable, achievable, relevant and time bound, he said. Another initiative is focused on energy integration into operations, looking for ways to set up the culture necessary for achieving the goal of "it is just what we do," said Simpson Cumba, executive director of data center management at Comcast, who will oversee it.
SCTE senior director Derek DiGiacomo will lead the energy metrics portion. "Metrics are needed to help operators measure how effective their operations are from an energy point of view and how changes in services and networks impact energy consumption," he said. The goal is to drive energy strategy and direction, provide a focus of energy for an operator, help make energy decisions and drive performance operationally, financially and environmentally. Leading the free air cooling initiative is John Dolan, senior engineer of network facilities at Rogers. The mission is to define what free air cooling means in cable and determine the number of hours available by area, as well as estimates of installation and operational costs/savings. The plan also seeks to provide standard free air cooling methods including retrofit systems. Dan Cooper, vice president of critical infrastructure at Time Warner Cable will lead performance and reliability tiering, which aims to define the performance requirements and standard naming for critical facilities supporting the growth and reliability of products and services.
The real story, according to Schanz, is that by the end of the decade cable's data rates will increase 273%, its power use will increase by 280% and its cost of energy will grow to nearly 300% of current expenditures. "Never let power be an obstacle to cable business growth and competitiveness," said Mark Dzuban, pres/CEO of SCTE. The group wants to make everyone in cable to become contributors to energy savings, he said.