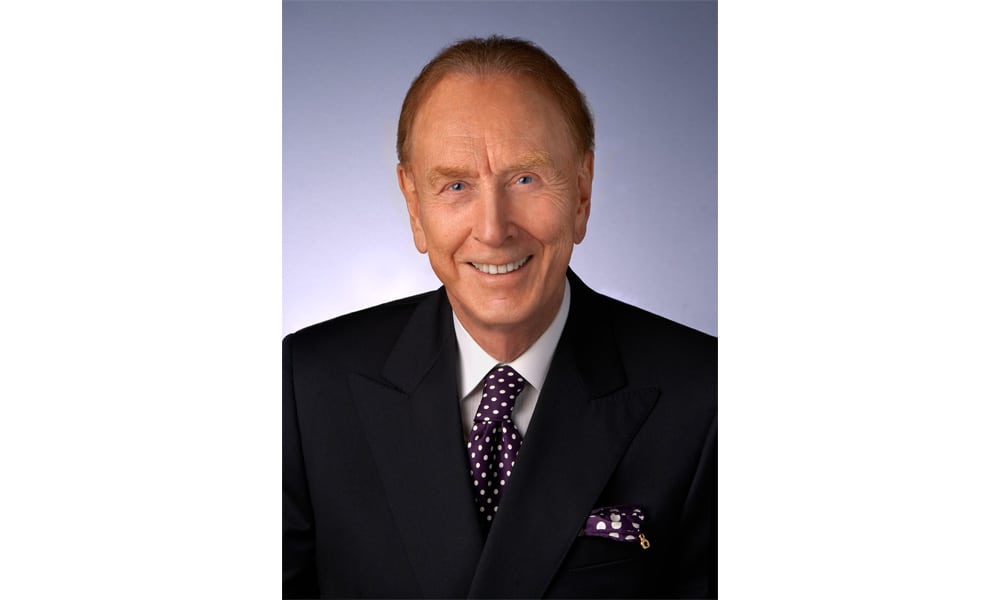 The industry was saddened and surprised to learn of the passing of pioneer Glenn Jones Tues morning. Many had just seen Jones, 85, last week at the memorial service for another cable giant, Ralph Roberts of Comcast. Jones looked "dapper and healthy," one friend said, describing the news of his death as "stunning."
"Glenn was a man before his time. He transformed the communications, information, entertainment and educational landscape by bringing cable television to millions of Americans. He freed higher education from the brick walls of traditional universities by bringing learning to people in their own homes, first via cable and later through the Internet and mobile devices," said Jones/NCTI CEO Stacey Slaughter. Slaughter reflected that Jones never really retired. "The businesses he created were his life's passions."
He formed more than a few businesses, including Jones Intercable, a top 10 cable operator that was eventually acquired by Comcast. "Glenn was a true entrepreneur and pioneer," said Comcast chmn/CEO Brian Roberts. "His creativity and passion to help people learn and advance through technology was ahead of many others. Our industry has lost a special man, and he will be missed."​
The genesis of Jones' cable operations was a system he purchased in Georgetown, CO, in 1967 by borrowing $400 against his Volkswagen. That Volkswagen served as his home at times, with Dick Green, former CableLabs CEO and Jones/NCTI board member, recounting how Jones began his career as a traveling lawyer, going from community to community doing legal work. "Glenn deserves a lot of credit for helping to build the cable industry. He developed a partnership way of financing a company, which proved to be very important to the cable industry," Green said.
Jones organized public limited partnerships to raise more than $1.2bln in equity capital for cable acquisitions. His companies were often on the forefront of technology. The Jones system in Alexandria, VA, was the site of the first experimental HD transmission, which came from the nearby PBS HQ. In 1987, he founded what became known as Knowledge TV, which delivered college courses via cable. Before being sold to Discovery, it had approx 50mln subs worldwide.
In the mid-2000s, Jones acquired NCTI, a provider of cable industry training and certifications, to form Jones/NCTI. His many other professional ventures included the founding of Jones International University, the 1st online university to receive accreditation from the Higher Learning Commission, and the creation of Great American Country (sold to Scripps in 2004). Education was a passion for Jones, who was recently presented with the Library of Congress' Living Legend Award for his advancement of education and assistance in expanding access to the Library of Congress. "He really was socially inclined. He wanted everyone to access an education," said Green. Cox pres Pat Esser noted that Jones "paved the way for online learning, connecting people to new opportunities and information."
NCTA chief Michael Powell remembered Jones, a former NCTA board member, as a great innovator, entrepreneur and leader. "He was both predecessor and precursor to today's high-tech entrepreneurs, investing virtually all his energy and resources in consumer-focused cable distribution, content, and technology ventures for more than five decades," Powell said. "Glenn helped build the foundation for today's forward-looking cable and telecommunications industry, and he did it with the soul of a poet and the mindset of a journeyman. His insight, enthusiasm, and spirit will be greatly missed."
ACA pres/CEO Matt Polka credited Jones with inspiring many to pursue careers in cable. "Cable continues to innovate and invest in new technology because people like Mr. Jones showed long ago that cable operators had an obligation to exceed their customers' high expectations and their own," he said. Information about services will be forthcoming.