Pay TV Gets Worst American Customer Satisfaction Index of 43 Industries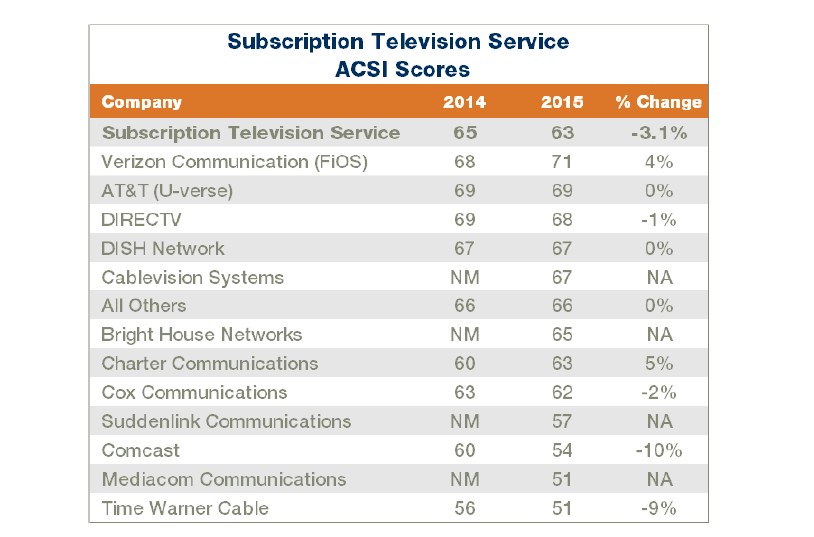 The American Customer Satisfaction Index score for subscription TV, Internet, wireless and fixed telephone and computer software has dropped to 68.8 out of 0 to 100, its lowest level in seven years, according to an ACSI report. And subscription TV is even lower, (tied with ISPs at 63), making it the lowest score of the 43 industries considered. ACSI looked at 14,176 customer surveys during Q1 of 2015.
The reasons cited? Poor customer service and higher prices, the report said. "Today people have more alternatives than ever before. Consumer abandonment of pay TV is shaking up the industry and lower satisfaction could mean even more cord cutting by subscribers ahead," said Claes Fornell, ACSI Chairman and founder.
Not surprisingly, following the failed Time Warner Cable – Comcast merger, both companies' scores tanked. Comcast's declined 10 percent to a score of 54, and TWC earned the lowest score in the Index at 51, a 9 percent decline. TWC shares the bottom tier with Mediacom Communications, however.
Meanwhile, telcos and DBS ops enjoyed sitting more towards the top of the table. Verizon FiOS gained 4 percent with a score of 71, taking the lead from DirecTV (which declined 1 percent to 68). Cablevision was the highest-scoring large cable company at 67, tied with Dish Network. Charter showed the most improvement in the industry, a 5 percent increase to 63, and Bright House Nets came in at 65.
Customer satisfaction with ISPs is low, but two companies—AT&T U-verse (69) and Time Warner Cable (58)—had gains of 6 percent and 7 percent, respectively. Bright House earned a score of 63 and Cablevision and Frontier Communications got a score of 61. CenturyLink dropped 8 percent to 60, Cox Communications declined 9 percent to 58, and Charter decreased by 7 percent to 57. Comcast slipped 2 percent to 56. The report cites unreliable service, slow Internet speeds, rising prices and lack of customer choice as reasons for the weak scores.
Cellphone satisfaction stayed at 78, the highest industry score. In terms of companies, Apple scored an 80, tied with Samsung Electronics. But customer satisfaction with wireless telephone service is down 2.8 percent to 70. Fixed-line service declined as well, down 5.5 percent to 69. More than 44 percent of homes are going wireless instead of fixed line, the report said. Generally, smaller local and long distance providers beat out the larger companies. Vonage and Bright House both got 73, while CenturyLink fell 1 percent to 70, Verizon declined 7 percent to 68, tied with Cox, and Cablevision earned a score of 67. AT&T faired the worst with landline service, down 10 percent to 65, but it's still ahead of Comcast (64) and TWC (63).