OTT Streaming Companies Facing New Challenges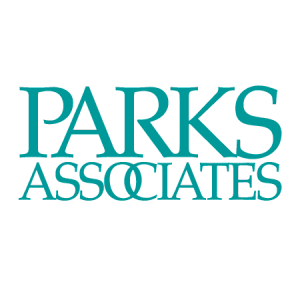 By Thomas Schaeffer
Sr. Contributing Analyst, Parks Associates
Role of Content: Driving Both Cost and Benefit
Content variety and relevancy are the primary triggers for signing up for and canceling services. Except for Netflix and Prime Video, consumers are likely to churn if the content library needs to be more engaging and relevant and prefer services that offer content across various genres. In 2022, Parks Associates data showed consumers becoming less sensitive to price if they can find the perfect blend of content and service options. However, price will be a much more significant factor in downward economic times.
The research firm reveals that 48% of subscribers cited content or a specific program as the primary motivation to subscribe to a new service.
In addition, most consumers feel comfortable with "service stacking" until they find the right combination of content. As more subscription and ad-based services enter the marketplace, competitive pressure increases.
Streaming services obtain content in different ways. Content can be purchased or licensed from its owner. Of course, services operated by a studio or television network already have access to a wide selection of their own content, along with a steady source of new material as it is produced. With both AVOD and FAST services, viewers are offered a library of content from which to choose. That library is curated and organized by a broad range of categories such as genre, theme, holidays, or TV shows. The assortment is relatively stable but may change from time to time. As new content becomes available, less popular titles are culled, and licensing and distribution agreements expire.
Many licensing and distribution agreements are non-exclusive, which can result in the same content appearing on more than one streaming platform in FAST "virtual linear" or ad-supported on-demand format—or both. Sometimes, subscription-based services offer a subset of their programming in a FAST channel that is available on one or more streaming services. This helps drive exposure and awareness of their brand among a wider audience and drives additional interest in the paid service.
Fubo Sports Network, for example, is a FAST channel owned by FuboTV (a vMVPD service) and syndicated to other OTT platforms. It was launched in June 2019 as an ad-supported channel, available first on XUMO (and FuboTV), and also on The Roku Channel, Tubi, Samsung TV Plus, and VIZIO, with "more coming soon." The Fubo Sports Network offers limited content, including sports-related stories and content that really is not sports itself, along with a selected library of pre-recorded sports content, and limited live sports content.
Organizations seeking to diversify revenue streams must develop and maintain differentiated offerings that attract consumer interest, advertiser investment, and strategically advantageous licensing partnerships.
Growth of Niche Services – New Market Opportunities
The widespread adoption of OTT services has given niche content providers with a smaller footprint a platform to reach millions of consumers. Generally speaking, "niche" refers to content based on affinities such as genre, identity, and language. Unlike mainstream OTT services, the value of a niche service is driven by its appeal to highly specific audience segments.
Niche services, such as Shudder, PokerGO, and Curiosity Stream, are seeing a significant opportunity to compete as consumers become less loyal to media brands when adding and removing services to accommodate their viewing habits.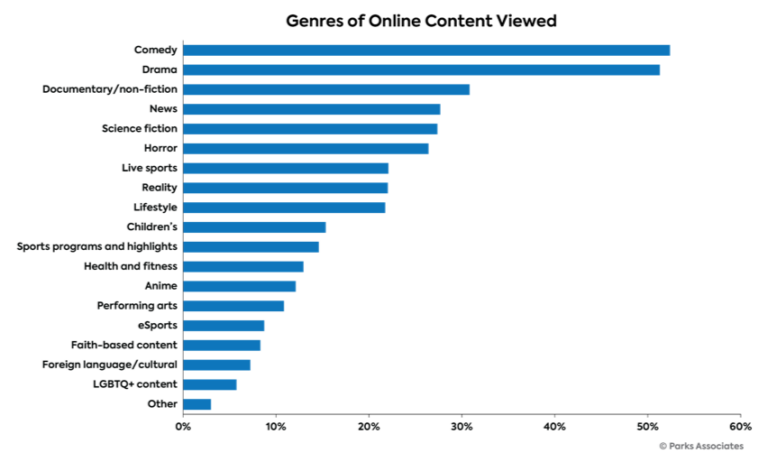 In Q1 2022, 61% of US consumers added other subscriptions, from niche to rival wide scale services, on top of the traditional "Big 3," with almost no one having an exclusive subscription to a single service. Comedy and drama documentaries were the most popular genres of content in the US, with a long tail of other genres being watched as well.
Unique content is the most significant driver for ad-based services.
Niche services are seeking to capture market share by filling the gap for viewers with difficulty finding content relevant to their specific interests on larger streaming platforms. More recently, mainstream media organizations have launched niche offerings. TelevisaUnivision's ViX Spanish-language service launched in 2021 and is currently distributed through a variety of partners such as Amazon Prime Video, Roku, LG, DISH TV, and SLING TV.
Ad-supported streaming, particularly FAST linear channels, can be used to distribute content that has relatively limited audience appeal, and could never justify its own channel on traditional broadcast or Pay TV. Such content may be dedicated to an obscure hobby, topic, or musical artist. Examples: Dogs 24/7 and Cats 24/7 on Pluto TV, NHRA (National Hot Rod Association) TV on Tubi and The Roku Channel, The Pet Collective on XUMO, and The Roku Channel.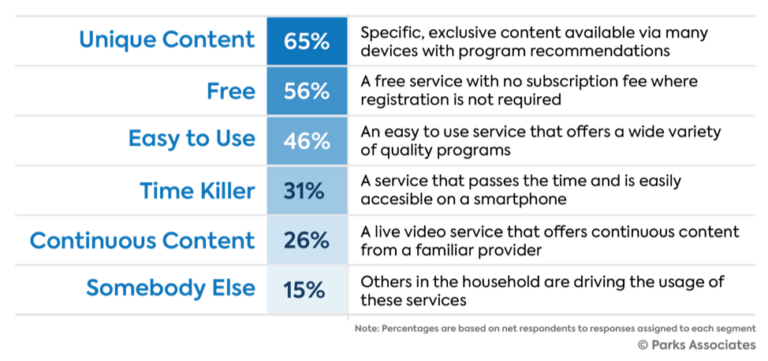 Advertising rates for these niche channels are likely lower due to smaller audience sizes, but these niche channels can allow content owners to generate some revenue rather than no revenue for content that might otherwise languish in a vault somewhere.
Role of Tech Driving Efficiencies
The evolution and rapid adoption of streaming TV services are forcing media businesses to embrace technology in bold new ways. With the right solution, data collected and analyzed throughout the digital supply chain give content sellers and service providers clarity around the value of the content they seek to monetize. These insights are essential and yet present one of the more difficult challenges media organizations face today. Data comes from various devices, platforms, and partners, each with unique formats and requirements. A better data solution would dramatically improve workflow efficiency while increasing insight into revenue generated by owned and licensed assets across FAST, AVOD, SVOD, TVOD, and other models.
Several categories of data need to be collected and analyzed to provide a full end-to-end picture of performance. Some examples of data categories are Content data – genre, series, season, episode, asset ID, Distributor data – terms, avails, distributor ID, distributor type, Revenue data – subscribers, transactions, units sold, forecast, Advertising data – impressions, CPM, fill rate, minutes streamed.
The challenge for organizations that monetize OTT content is finding innovative ways to capture, normalize, and transform data into actionable business intelligence. Traditional methods for collecting and disseminating large amounts of data, such as loading information into Excel files, are unwieldy and impractical.
Yet, the urgency for content sellers and streaming services to have a line of sight of how their content is performing has never been greater. With the right solution, media organizations gain insight into content performance that optimizes content investment and distribution strategy decisions, ultimately driving greater ROI.
---
This is an excerpt from Parks Associates' complimentary White Paper "Optimizing Video: Enhancing Content Performance for OTT Success," in collaboration with SymphonyAI Media. This whitepaper examines the current state of the competitive streaming video market, its challenges driving the need for deeper content insights, and the benefits of implementing data-driven solutions able to handle today's complex revenue models. The whitepaper includes best practices and real-world deployments of advanced content intelligence.