Nielsen: Media Habits of U.S. Hispanics Vary by Age, Language Dominance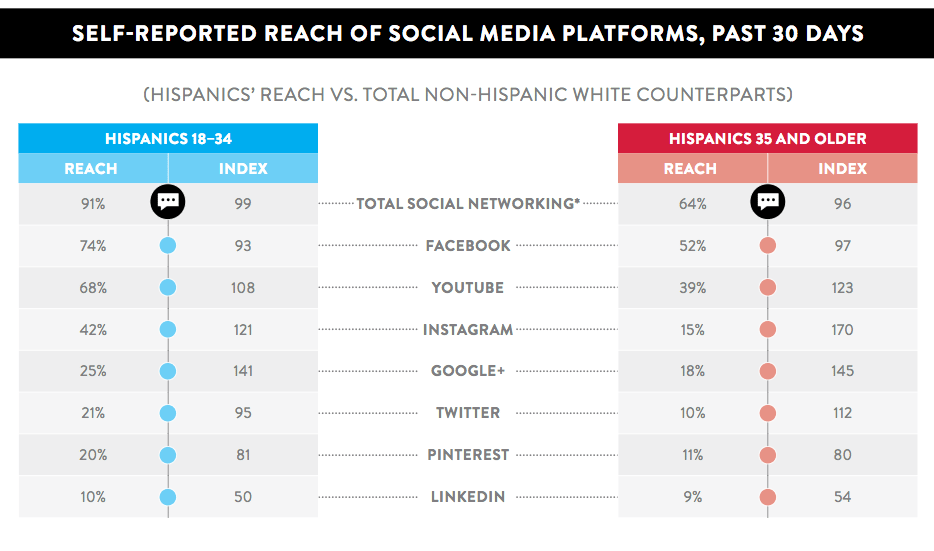 The U.S. Latino population has reached nearly 57 million (18% of the population) and that number is expected to double in size by 2060 to 119 million (28% of the population), according to a Nielsen report dubbed "From the Ballot Box to the Grocery Store." The report looks at trends in Hispanic demographics, consumption and media behavior as well as a look at the Latino electorate. It's Nielsen's fifth report on the Latino consumer and part of its Diverse Intelligence Series.
Buying Power
The explosive growth of the demo translates to greater buying power and the need for marketers to appeal to the group in increasingly specific ways, as it is diversified by age group, language dominance and earnings. Hispanic buying power hit $1.3 trillion in 2015, a 5.7% increase YOY, and is about 10% of total U.S. buying power. The average household income has increased from $40,946 in 2009 to $42,396 in 2014, and 43% of households have an income greater than $50,000 in 2014—compared to 30% in 2000.
Ambicultural
While the Hispanic population grows, there remains a concentration of both Spanish and English language culture within households, the report suggested. 54% of Hispanic children under the age of 18 live in a household with at least one foreign-born parent, which means that they are connected to both cultures at once. This subset of Hispanics Nielsen calls "ambicultural," or those who consider themselves both entirely American and entirely Latino. Language proficiency plays in a factor within this group. While Hispanics under the age of 55 are predominantly bilingual, 96% of Hispanics under 18 are either bilingual or English dominant. In total, 55% of Hispanics are bilingual, 27% are English dominant and 19% are Spanish dominant. Dual-language competence is a real benefit, with Spanish continuing to be relevant to younger generations. Messaging in both English and Spanish is therefore important to connecting with this group.
Media Habits
When looking at media preferences, the report divided Hispanics into two groups: millennials (age 18-34) and 35 years or older. Take a look at the discrepancy between reach of seven leading social media platforms, with "reach" defined as the percent of a population group that uses a media source: The 18-34 group have a 91% reach for the platforms, while the 35+ group has a 64% reach. Facebook and YouTube are the most popular for both groups. Moreover, when looking at the reach of Instagram and Google+ both groups over index compared to non-Hispanic whites.
Devices
In terms of electronic devices, ownership of smartphones in the 18-34 group has a 88% reach, compared to non-Hispanic whites at 86%. For the 35+ group, reach is 68% versus 56% for non-Hispanic whites. Broadcast and cable TV is more popular with Hispanics 35+ than millennial Hispanics, which has the greatest reach for overall online activity—including online radio and cable TV online—when compared to Hispanics 35+ and non-Hispanic whites.
Time Spent with Media
Both Hispanic subsets, 18-34 and 35+, spend more time watching TV than engaging with other media. Millennials spend an average of 18 hours and 28 minutes a week on TV, and the 35+ group spends about 33 hours a week. As one would expect, the younger set spends more time social networking and on the Internet. But while millennials spend about 41 hours a week on TV, radio and online combined, the older group spends 55 hours a week on the same platforms. Media usage also varies depending on language dominance. Bilingual Hispanics spend about 42 hours a week on TV, radio and online, while English dominant spends 51 and Spanish dominant spends 44 weekly.