Just Released: Cablefax Top Ops Magazine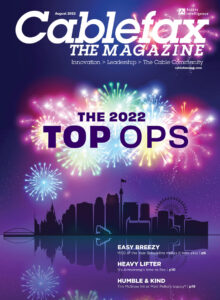 Cablefax is proud to release the 2022 Top Ops Magazine, celebrating the companies and executives who are lighting up the telecommunications landscape.
MSO of the Year Breezeline has been on a high-growth trajectory, punctuated by smart acquisitions, strategic overbuilds, new product launches and a redesign of the customer experience.
Armstrong Utilities received the Independent Operator of the Year award for its leadership in 10G and connecting rural America, while making sure its employees and customers feel like part of the family. Both operators are thriving in today's fast-changing world because of their willingness to adapt to shifting consumer and technological demands.
In this issue, we bestow outgoing ACA Connects President & CEO Matt Polka with our first-ever Founders Circle Award, which is reserved for trailblazers who helped form the broadband and media industry. You'd be hard-pressed to find anyone with a bad thing to say about the association's CEO for the past 20-something years, but you'd find plenty of folks who credit him with making ACAC a leading advocate for small and medium independent operators.
Other bright sparks in our annual Tops Ops issue include Comcast, recipient of our 10G Pioneer award as well as Change Initiative of the Year for its groundbreaking XClass TV, Digital Equity Award honorees Charter Communications and WOW! and Community Builder honoree Cable One. This year, we awarded two industry heavyweights with Lifetime Achievement honors—former CTAM CEO Char Beales and retired MCTV President Bob Gessner.
We also use this magazine to introduce our first-ever class of Regional Rainmakers—those often-unsung heroes who are making a difference on a local level.  Our inaugural selection includes a pay TV business built on the back of the broadcast ATSC 3.0 standard, the nation's very first state association (still going strong) and an executive with endless energy who has been essential in helping operators transition to a smaller portion of C-band spectrum. We also pay homage to the industry's longest regional association leader, a small provider that has made a big impact on its community's sports scene and two apps that are local with a capital L.
Check out the digital issue to read about all of Cablefax's Top Ops honorees and Regional Rainmakers. Enjoy and share individual company profiles at www.CablefaxTopOps.com.