Hell on Wheeler: FCC Chmn's Tough Words Don't Quell Deal Talk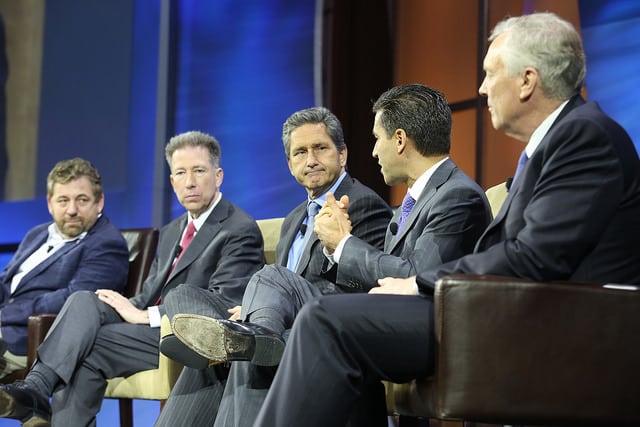 When FCC chmn Tom Wheeler takes a victory lap over the failed Comcast-Time Warner Cable merger and suggests the industry needs regulation to keep its dominance in check, there's really only one way to respond: Propose more deals. That's essentially what happened Wed morning as the biggest power players in cable distribution (minus Comcast) contemplated more ways to combine themselves to increase their effectiveness and improve product offerings.
Cablevision CEO Jim Dolan immediately brought up the need to consolidate individual markets and brashly answered "yes" when CNBC's Julia Boorstin asked him if he wants to do a deal with TWC to shore up the NYC market. In even considerably hotter seats were TWC chmn/CEO Rob Marcus and Charter pres/CEO Tom Rutledge, who many expect to propose some kind of combination now that Comcast is out of the picture. Both were coy as Rutledge tantalized the room with his usual whimsy: "The world is full of possibilities, but I can't tell you about any of them." After a few minutes of this, Cox Comm pres Pat Esser tried to intervene. "I feel like we're updating our relationship status in front of 10,000 people," he said. "It's a little awkward up here."
Interestingly, the men on stage had just spent the last half hour listening to Wheeler tell the industry to grin and bear it when it comes to Title II rules. He praised cable for its adherence to open Internet principals so far, but "the only way to maintain that situation is to uphold your responsibilities." And referencing the argument that a future FCC chmn could do something "crazy" with those rules, he threw that line back at the execs in the room. "I take you at your word that you will protect the open Internet," he said, "but what about the people who follow you?" To be sure, the distribution CEOs who took the stage after Wheeler were having none of it. "There's a presumption of guilt and a punishment of success that this industry has achieved that I have never witnessed in my life," said Liberty Global pres/CEO Michael Fries. "It's terrible regulation. I'll just say what these guys are probably thinking. It's terrible." Then perhaps the final kicker: "For years, I've told European regulators to look at the U.S. market for guidance," he said. "I'm not saying that today… we're happy to be abroad " Of course, it's still our FCC, right? "We suffer from Stockholm syndrome here in the U.S., so we have to be careful about our captors," Rutledge said to laughter.
Esser noted "early signs" that the specter of Title II rules will drive up pole-attachment rates (which Wheeler said he'll work to keep in check), legal fees and other costs. "At the end of the day, my customer pays for that," he said. Dolan, who faces massive competition from Verizon in his NYC-area region, seemed less worried. "For Cablevision, we're in a very… competitive market, and I don't see many of these regulations affecting us much at all," he said. But he added that any kind of "government subsidized competition" would be "very dangerous."