Cox Hampton Roads Celebrates 40th Anniversary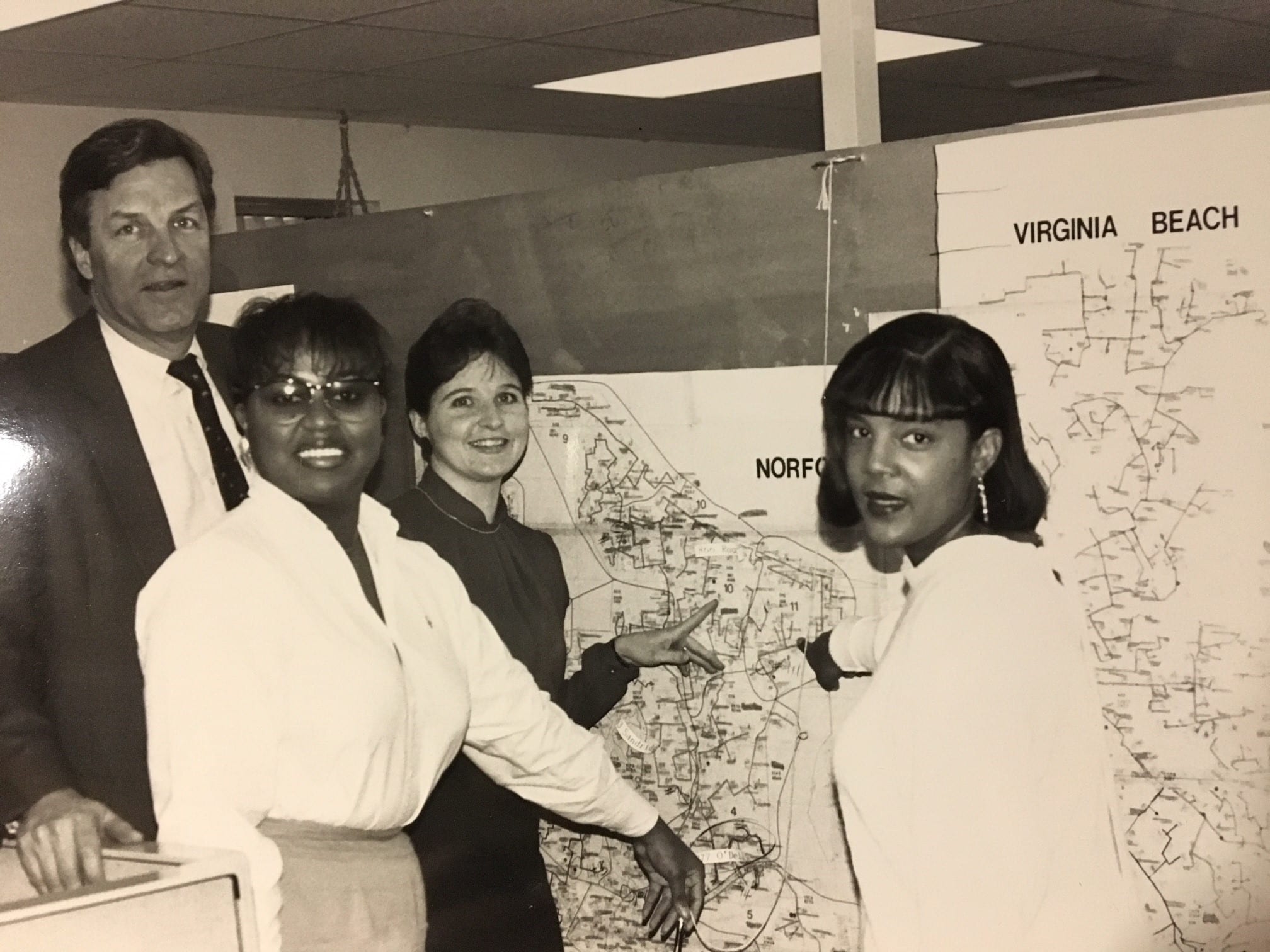 There's a rich history behind Cox Hampton Roads. It was the birthplace of Cox Business Services in 1993, and with its large military presence, including the world's largest naval base, shipyards and miles of waterfront property, it's been a good test market for other services over the years. It's also where president Pat Esser started his Cox Communications career.
"Cox Virginia will always be special to me. I drove there almost 40 years ago hoping for a job; it's turned into a life-enriching journey where I continue to learn every day," Esser said. "Virginia was also one of the early markets where Cox offered business telecom services, something that has become a growth engine for the company and delivers almost $2.5 billion in revenue today. We continue to thrive when our teams closest to the customer take calculated risks in response to market opportunities."
When the region's 40th anniversary rolled around this year, leadership decided to do more than cut a sheet cake and hand out corporate swag to employees. "Cox started in 1898 and we kind of operate, in my opinion, with a higher purpose. We really focus on investing in our communities—where we live, where we serve, where our employees also live," said Cox Virginia svp J.D. Myers, II, who has spent 13 years with Cox, all in Virginia. Four years ago, he began running the entire division, which includes Roanoke and Northern Virginia along with Hampton Roads.
"For me, the anniversary was an opportunity to engage with our employees, engage with our customers and more importantly, engage with the community in a meaningful way so we can celebrate. And it allowed us to tell the great story of our past, but also look to the future and what's to come with the Internet of Things," Myers said.
One of the ways Cox Virginia stepped up to celebrate was by launching a 40 Acts of Kindness campaign this summer, with 40 acts of kindness that totaled $40K donated throughout the Hampton Roads community. Sometimes it was something fun like tickets to a concert. Other acts included employee volunteer projects within the community, such as an elementary school makeover. Four nonprofits received $3500 grants, with groups nominated by United Way and then Cox VA employees voted on which ones they felt should receive the money (Cox Virginia provided $2500 and United Way added $1000 to each).
Among the grant recipients is The Peninsula Agency on Aging, which said the money will keep 30 seniors fed for a month via Meals on Wheels or provide 30 non-emergency medical trips.
"We were surprised and honored that Cox employees chose PAA as one of the non-profits to support. So often, and understandably, the focus of this type of initiative is on children and education so it was gratifying to see Cox employees include older adults," said PAA pres/CEO William Massey. "I think this just goes to show how the community and wonderful organizations like Cox Communications are starting to see how important it is to support the work done by PAA in support of older adults, their caregivers and our communities."
Cox parent Cox Enterprises is 120 years old this year, founded by James M. Cox, who later served as Ohio's governor and was the Democratic nominee for president in 1920 with Franklin Roosevelt as his running mate. "As a company, Cox has been and always will be very people centric. Our founder James M. Cox always said, 'If you do what's right for people, you do what's right for employees, they will do what's right for business and in turn society,'" explained Nneka Chiazor, vp, public & govt affairs for Cox VA. "So we started planning with how do we what's right for employees and how do we have that ripple effect."
That ripple effect is going beyond Cox VA's imagination. "Since we've started the 40 Acts of Kindness, other companies in the area have started asking, 'should we do this Acts of Kindness as a region?' Maybe for the month of X or for this cause. Those conversations are happening now," Chiazor said, crediting United Way of Virginia Peninsula pres/ CEO Steven Kast for helping come up with the idea.
Other components of the anniversary campaign have included showing off the future, with Cox VA nearing Gigabit rollouts for the entire footprint. Cox Virginia held a "Leaders Conference" that Esser attended along with community leaders such as Virginia Beach mayor Louis Jones. Cox Virginia made a $10K donation to the area's Dress for Success chapter and filmed a PSA for the group. The division also just wrapped a scavenger hunt that sent charitable organizations and businesses in the Hampton Roads area out to find various locations in the area. The winner receives $10K for the participant's designated charity, after completing tasks such as dancing the Cotton Eye Joe outside Portsmouth's Hill House Museum or taking a boy band selfie with the statue of Grace Sherwood, who was tried for witchcraft in 1706.
The 40th anniversary initiative has been so successful that Cox VA is looking at using it on a smaller scale for other milestones, such as anniversaries of its first digital customer or first Gigablast customer. Next year, when Cox Northern Virginia turns 20, it will be tweaked for that market. "It's almost a turnkey now," said Myers, a proud veteran who has made sure the military community is well represented in the celebration.
And at the heart of the campaign are Cox employees. Hampton Roads has several team members who have celebrated at least 30 years with the company. They joined Myers and Esser for a special breakfast last month along with other employees from all Virginia markets. The area has two employees who have been there for 40 years. One of those, Pete Hogge, Cox Business operations supervisor, is based in Hampton Roads. He was appropriately feted, throwing out the first pitch at the Norfolk Tides game for Cox Family Night at the ballpark. Passing on Cox's legacy of giving back is as important to leaders as firmly establishing Cox's position as a connectivity company.
"I spend time with every new hire. I carve out an hour each monthly for every new hire class that comes in and spend time talking about being part of the community," said Myers. "I say, 'if you're not a person engaging in the community and you don't have a desire to be part of it, you picked the wrong company to work for.'"