Beta Study Offers Programming Preferences of Cord Cutters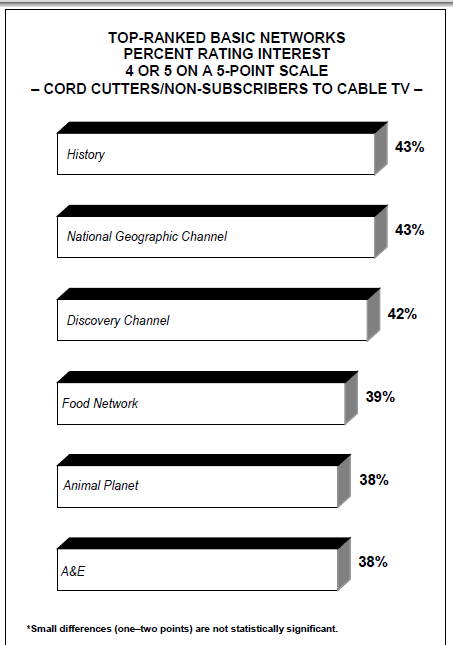 This year's Beta Research Cable Network Interest study offers some interesting fodder for anyone trying to woo back cord-cutters. It's the first time the survey included a sub-sample of cord-cutters, offering insight on what networks they're most interested in even though they aren't paying for cable right now. And it seems like non-fiction programming and movies are of great interest for the group.
History, National Geographic Channel and Discovery tied for first place in interest among cord-cutters, followed by Food Network, Animal Planet and A&E. Among digital basic/mid-sized/emerging networks, Sony Movie Channel ranked as number one, followed by FX Movie, Cooking, FXX, BBC World News, Science and DIY.
The study also found that adults with high interest in Tennis Channel, Revolt, SEC Net, Velocity, Ovation and others were more likely than others to have high interest in cable competition and technology. Some 35 percent of cable subscribers said they were extremely or very interested in switching providers in the next six months.
Social media continues to take up more of viewers' time, with Beta reporting that 29% of respondents reported using it 10 or more hours a week. Networks that ranked especially high among the social set include Revolt, MTV Jams, Sprout and Disney Junior. Beta didn't draw any conclusions on what that means, but it sounds to us like young people and parents.
Beta continues to break out the top ranked HD networks in interest, with Discovery at the top, followed closely by History, USA, Nat Geo, TNT and ESPN.