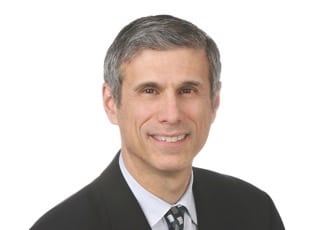 Surely the world is just a bit less fun today without Dan Brenner's smile and sense of humor.
When someone dies the clichés tend to run on overdrive. The thing is, in Dan's case, the clichés are true. He was one of the nicest people you'd ever met, one of the smartest and wittiest, too.
As some of you know, Dan was a ringer—he helped pay his way through school and law school doing stand-up comedy. This is why I sometimes felt nervous around Dan. If he laughed at a joke I told, I knew I had a winner. Believe it or not, Dan gave my attempts a few smiles.
At Cablefax we hired Dan several times to open events as a comedian, once 20 years ago when we had a huge group come in to Maryland from our London office. By mistake, I gave Dan faulty directions to our office in Rockville. It was then that I discovered Dan's humor could be sarcastic. He spent the first 10 minutes of his act berating me for the bad directions. It was hilarious. Honest. Then he went on to criticize everything in our boardroom, including the clock and the coffee cups. He ended with an off-color joke spoofing the many cable network mergers that were occurring at that time. The set-up was that the DIY network was merging with The Playboy Channel. Need I tell you what Dan said the merged network would be called?
The next thing will surprise nobody who knew Dan. He never accepted payment from us for those gigs. When Cable Positive was around, he asked that we make a donation to it. At a later gig for Cablefax, where, I must admit, Dan bombed, he asked that his payment go to the Kaitz Foundation.
Several years ago, my colleagues, Mike Grebb and Amy Maclean, wisely honored Dan with a Lifetime Achievement Award. By that time he'd moved on from cable and was beginning a career as a judge in California. I was honored to write a profile of Dan to accompany the award. [See the full profile on Dan below, from the Cablefax Top Ops 2013 issue.]
Nearly everyone I spoke with for the story had the same question: Does his honor tell jokes on the bench? It wasn't that Dan lacked the gravitas or legal mind to be a judge; everyone knew he had both in spades, it was just hard to picture our Dan in robes, mixing with criminals, dispensing justice.
Dan was gracious as heck when I told him about this honor. Then the usual jokes, of course. "There was nobody else left to honor? Didn't anybody retire this year?" The day I interviewed him for the profile Dan told me he was sitting in judgment in traffic court. I was incredulous. A keen legal mind adjudicating traffic cases? Was he joking with me? His response, "They don't start you on the Supreme Court, you know." That Dan's demise was due to a traffic mishap makes his loss that much more difficult to accept.
Cable Lifetime Achievement Award, Top Ops 2013
Judge Daniel Brenner
Anyone who has spent some time in cable knows Daniel Brenner. He spent nearly 20 years as SVP for Law and Regulatory Policy at NCTA, serving as chief legal and policy counsel, after spending years in private practice and as Senior Advisor and later Legal Advisor to the FCC Chairman. "Intellectually, he's the real McCoy," says Rob Stoddard, NCTA's SVP for Communications & Public Affairs. "From pole attachment to music licensing to network neutrality—and everything in between—his mastery of telecom law and regulation is unmatched." But it's Brenner's ability to bring wit and levity to any situation that always stood out. "His sense of humor is so fast and sophisticated that a lot of people just don't get it," says Steve Villano, the former Cable Positive chief who might be the only cable person who experienced the Brenner legal brilliance as a student: Brenner guest lectured at Hofstra Law on Long Island when Villano matriculated there.
Shortly after Brenner left NCTA we again were reminded that behind his sardonic wit was a tremendous legal resource. Hogan Lovells, arguably D.C.'s top law firm, quickly made Dan a partner, a testament to the tremendous reputation he had forged with cable operators, guiding them through the regulatory thicket of Washington, D.C. His latest iteration, though, puts Brenner on an even higher level: The Stanford Law grad is now a Superior Court Judge in Los Angeles, appointed by Governor Edmund "Jerry" Brown (D).
We spotted Brenner years ago at one of those super-early industry breakfasts we're all so fond of, especially after a long night. Despite the hour, Brenner, emceeing the breakfast, had the crowd in stitches. Later, we discovered Brenner was a ringer—he'd done stand-up for years.
Dan Trigiboff, a lawyer and comic who paid his bills writing for cable trade pubs. "I'd see him on stage at night at the Comedy Cafe or Crystal City Comedy Club, and sometimes call him in the daytime on a story," Trigiboff says. "He was very frank and very funny in either situation." Later, when Brenner directed the communications law program at UCLA, Trigiboff and he were part of a show composed entirely of lawyer-comics. Now a professor at Methodist University in North Carolina, Trigiboff, indeed everyone we spoke to about this profile, had the same question: Has Brenner been able to maintain his sense of humor on the bench?
This was more than a softball question. While this Lifetime Achievement award honors Brenner's accomplishments, humor played a part. "Dan was the Ben Franklin of NCTA," Stoddard says. "At one moment, brilliantly insightful and innovative, steeped in telecom history; then cutting tension with an impromptu quip or rapid-fire one liner. His humor was a great tool to put people at ease as they were working on intractable problems."
It had to be our first question: Can you tell jokes in court? "Well, it is a different job," Brenner said by phone without a trace of humor. We pressed ahead. Establishing that he had to don robes daily, we asked if L.A. picks up the dry cleaning bill. "No," he responded seriously. This was becoming a disaster.
You must be ruling on an interesting point of communications law today, right? "No. I'm in traffic court, dealing with people who've run red lights." A joke? "I'm serious," Brenner said. "They don't start you on the Supreme Court of the United States. You have to work your way up." At last, a glimmer of levity; then, a larger crack in the armor. "Sometimes, when I think of something funny, I'll turn to the court reporter and make a joke." We had our answer.
Then the stories flowed. From getting to know Jane Fonda during Ted Turner's cable days to working with Dr. John Malone to board meetings at Brian Roberts' home in the Berkshires to leading important cases for NCTA—Gulf Power and Brand X—"they insured the long-term future of a highly deregulated, innovative product like residential broadband," Brenner said.
"I miss cable, especially the people," Brenner admitted. They miss you, too, Dan. And that's not a joke.
-Seth Arenstein
Fast Facts:
*Among many awards, Brenner received NCTA's President's Award (2008) and Cablefax's Community Service Award (2009) for his work on behalf of Cable Positive.
*Brenner has served on the Board of Trustees of Stanford University and the National Law Committee of the Anti-Defamation League.