34% of Video Plays in Q4 on Tablets and Smartphones, Ooyala Report Finds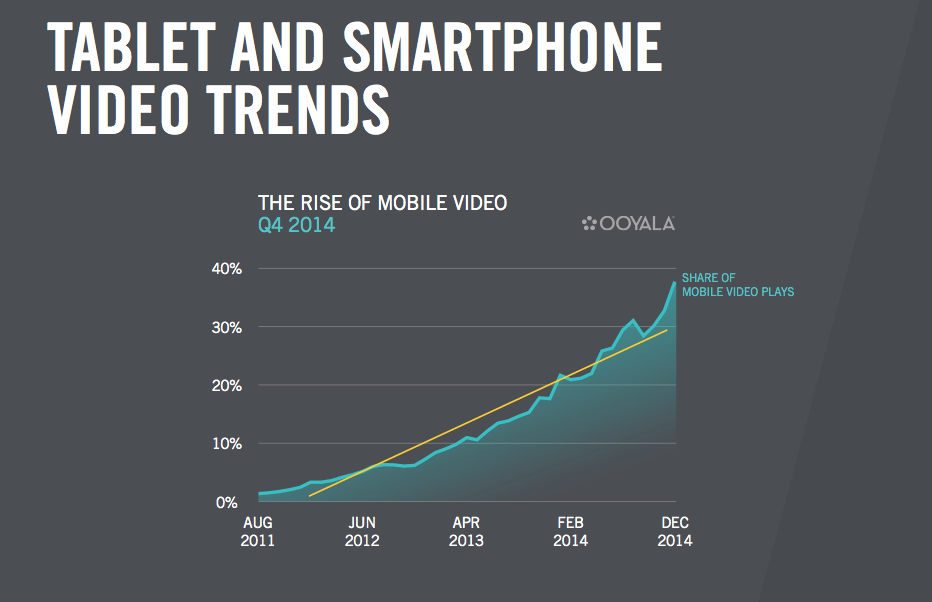 In Ooyala's latest report on trends in video consumption on tablets and smartphones, it's becoming even more clear that watching video on devices other than the television is experiencing incredible growth.
Consider this statistic: 34% of all video plays in Q4 were on tablets and smartphones, according to the Global Video Index for Q4 2014. And December's usage alone was even higher, at 38%. That's 114% higher than in December 2013. Moreover, the overall amount of plays doubled in the past year, increased five times since 2012 and increased 16 times since 2011.
The consumption of short-form content occurs on all screens, according to the report, which surveyed Ooyala's approximately 500 customers in the video publisher and ad tech space. But long-form content is especially consumed by tablet users: These users spend 70% of their time watching videos longer than 10 minutes—more than any other device. Content that's 30-60 minutes long is also most frequently watched on a tablet, but connected TV users watch the longest-form: they spend 41% of their time longer than 60 minutes.
In terms of advertising loads, the report found that PC devices leads in number of ad impressions for both broadcasters and publishers. But mobile phones are gaining ground in this respect and are taking a greater share of advertising from PCs. With ad completion for broadcasters, tablets see the highest rates, followed by PCs and mobile phones.