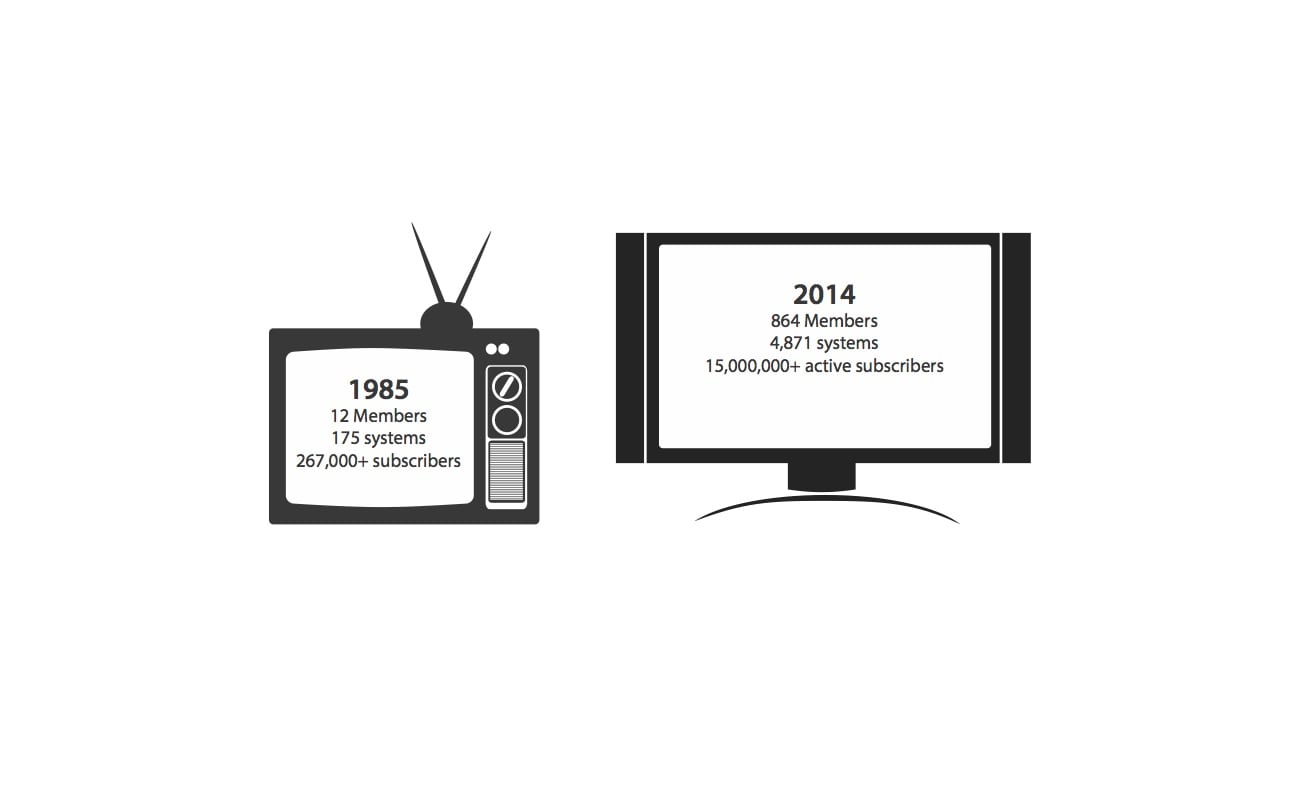 When the Independent Show gets underway Sunday night in Kansas City with a tailgate kickoff, NCTC will have a little bit more to celebrate. The cable cooperative is celebrating its 30th anniversary, having started in 1984 as a project of the Mid-America Cable Association. Appropriately, this year's Independent Show will fade right into The Mid-America Cable Show's annual meeting. The idea behind the co-op was simple: more volume means bigger discounts. It gave smaller operators the opportunity to receive volume discounts, something they jealously watched TCI get. To mark NCTC entry into its thirties, here's a timeline highlighting some of the group's milestones.
1984: NCTC started with 12 cable operators. The idea was hatched over an after-hours poker game at the Mid-America Cable Show. Who says nothing good can come out of staying out until the wee hours of the morning during a show?
Mike Pandzik was tapped as the first head of NCTC, working out of his house for a little over 2 years. He recalls in a Cable Center interview that NCTC's first commercial office had about 550 square feet. A former HBO exec, Pandzik and the members really wanted to get a co-op deal done with the premium network because it was the biggest programmer in those days. While it may have been the initial target, it took years to finally hammer something out between the two. NCTC's first deals were with Weather Channel and equipment maker Toner.
1986: NCTC membership represented 1 million basic subs, up dramatically from the 260,000 the co-op started with two years earlier.
1990: NCTC's membership surpassed 200 members.
1993: The Small Cable Business Association, now the American Cable Association, was born. Its birthplace also was Kansas City. ACA is the lobbying arm for independent operators.  Proof that Kansas City has more than barbecue going for it!
1994: Things are really picking up for NCTC. That's the first time it sent a programmer a monthly check that topped $1 million.
2005: Founding president and CEO Mike Pandzik retires. Former Adelphia exec Jeff Abbas becomes NCTC's new leader.
2006: NCTC and ACA decide to combine their annual meetings and rebrand them as The Independent Show in 2006.
2011: A couple months after Jeff Abbas' resignation, Rich Fickle becomes NCTC's third president and CEO. He comes from Deluxe Entertainment, which acquired Ascent Media. He joined Ascent in 2001, serving most recently as svp, cable/teclo VOD and TVE services.
2014: NCTC returns to its roots, holding the Independent Show in Kansas City for the first time. KC is also the co-op's headquarters.