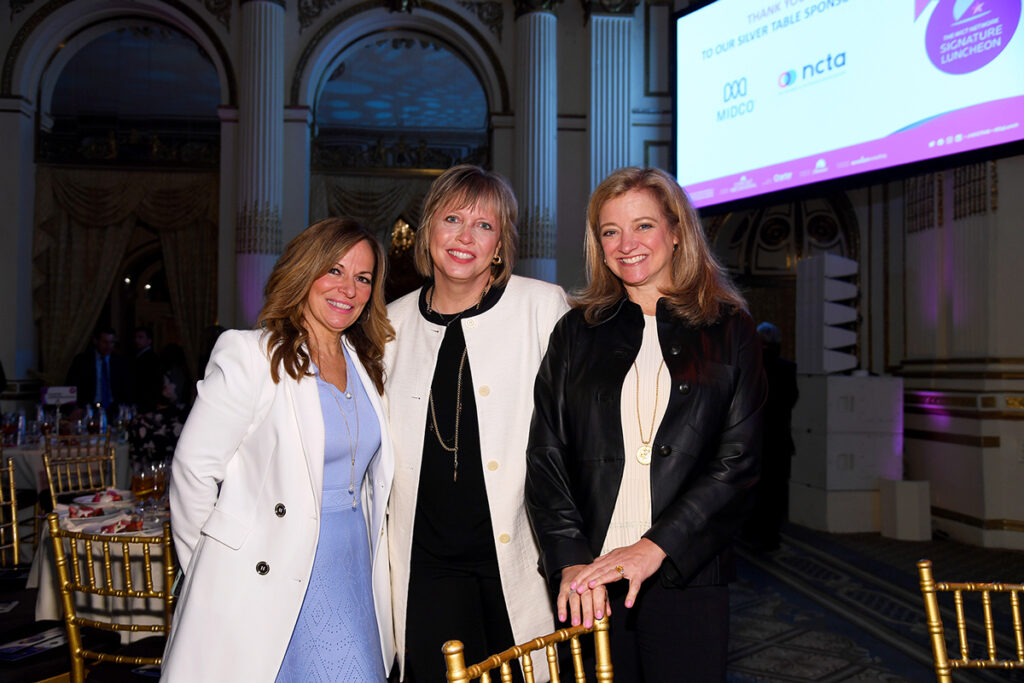 WICT Network Always by Industry's Side
By Sara Winegardner
The COVID-19 pandemic made it harder than ever to connect with family, friends and co-workers, but it also underscored how important that human connection is. For an industry association like The WICT Network, it was a time to step up to the plate and ensure that every woman in the industry knew that they weren't alone.
"We've always been very communicative with our chapters, stakeholders, sponsors and our members. We just really doubled down on that," WICT Network President/CEO Maria Brennan says. "We really amped up our day-to-day communications with our volunteer leaders."
Her goal was to keep The WICT Network's team healthy and confident in the work they were doing while also keeping the larger organization healthy. Immediately, the team saw registration increase fourfold for its webinars compared to the numbers it would see for live programs and shifted to try to meet the demand for those community events.
Monthly calls with the chapter presidents and vice presidents were used to exchange information about virtual platforms, what was resonating with different groups and more. And while there was plenty of serious discussion around how to continue supporting members in their professional development, there was also a lot of talk about how to create more social or laidback events that could bring people together.
"We were intentional to still have fun in this because that's what kept our members engaged," says Terri Rice, WICT Heartland Chapter President and Cox Senior Marketing Manager. "We wanted to build unique experiences for them that perhaps they weren't getting in other virtual meetings."
The Heartland Chapter held a Halloween party where everyone was encouraged to dress up. It also hosted a makeup artist who taught members how to use products to look their best in virtual meetings. The chat box was blowing up during every event, and more individuals began turning their video on with each new gathering. The chapter conducted surveys after each event, but the biggest vote of confidence it received was when it hit its renewal goals throughout the pandemic.
"That's one of the things members struggle with as their departments fund their membership… What's the value that they're getting with their WICT membership that they can't get in some employee resource group?" Rice says.
The Pacific Northwest Chapter similarly has an expansive footprint, but it came into the pandemic with some advantages. With members in Alaska, the western portions of Canada and the northwest corner of the U.S., it started pivoting to virtual events in 2019 long before the pandemic as a way to connect folks from some of the more remote regions of the country.
Pacific Northwest Chapter President Abbie O'Dell, who serves as Charter Senior Director of Learning Services: Field Operations, notes that the Southeast Chapter and others opened their programs to members from other chapters. "They quickly realized that mentorship is a challenge when you can't be together live. They were like if we can get other chapters to be part of the mentor-mentee pool, we can further cross-pollinate. Maybe someone from Denver could mentor someone in Mexico, or vice versa," she says.
While all this was going on, the global organization continued to plan for the future and how it could support more women. The leadership team first met about a name change in February 2020. The pandemic put those discussions on ice for a time, but everybody came back to the drawing board once the initial transitionary period to operating from home was complete.
"It's pretty easy to do a census and see how they're identifying themselves, and you're hard pressed to find the word cable in any of them, even the traditional distribution MSOs… they consider themselves technology companies, entertainment companies and media companies," Brennan says.
Global leadership wanted to build a larger umbrella to welcome in more women from the media, entertainment and technology sectors. The organization conducted a census of its member companies, commissioned focus groups and employed outside firms before settling on The WICT Network with the tagline "Empowering Women in Media, Entertainment and Technology." It was officially introduced during the group's Signature Luncheon in October in New York City.
"It's setting us up for the future, but it's also an homage to where we are. Not the past, but where we are," Brennan says.