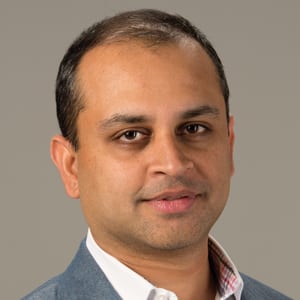 Somaya is a relative newbie at Nielsen, having joined the company this January, but he's no data neophyte. After holding data and analytics posts at ESPN and The Weather Channel, he's leading the evolution of Nielsen's measurement business based around its myriad panel and census data channels. It's no small task, as questions from both Hollywood and Madison Avenue—and competition—continue at a rapid-fire pace, but Somaya's vast technological prowess and his ability to communicate complicated scenarios in understandable language make him the ideal exec for the job.
What does your company/organization do to ensure all employees feel included?
Diversity and inclusion within our company is what makes us strong. It gives us new skills, unique perspectives and encourages us to be the best version of ourselves both in and out of the workplace. At Nielsen, we don't just try to acknowledge our diversity ⁠— we celebrate it. Across the company, we have senior leaders, resources and initiatives that encourage inclusion and give our associates a platform to speak their truths and feel supported. Making sure our employees feel included requires a multifaceted approach, whether that be creating employee resource groups, performing community outreach, or hiring diverse talent.
The U.S. population is becoming more diverse by the day, and in order to ensure we're able to provide our clients with a view of what's next, we have to ensure our associates reflect the diversity of the markets we measure. It isn't enough to preach about the value of diversity ⁠— we need to incorporate it into our culture. Ultimately, all of these efforts reflect our core values and bolster the importance of diversity and inclusion within Nielsen and the industry at large.
Having said that, I also feel that we cannot rest on our laurels. We must continue to look for new ways to ensure that our definition of diversity evolves. Our vigilance around ensuring that we remain open-minded is part of the Nielsen way.
How can diversity be better incorporated into the recruiting process?
There is always diverse talent out there for any given position. It's a matter of giving them a shot. With so many easy, efficient ways to locate talent in this day and age, we need to ensure that individuals from a variety of backgrounds have the opportunity to showcase their skills.. Putting our own diverse leaders at the forefront is also crucial to making sure we continue to gain unique perspectives and advocate for the hiring of women, multicultural talent, LGBTQ individuals, people of differing abilities and all other diverse groups in the country. It's our responsibility to do our due diligence to create a workforce that reflects today's society, makes our company better and produces superior results for our clients.
We also need to continue to strive to have diversity at every level. Our CEO, David Kenny, is also the Chief Diversity Officer and remains committed to making sure that we look at diversity across every level of the company up to and including our executive leadership.
Can you share a successful diversity program at your company or one you've observed at another company or organization?
Our nine global Employee Resource Groups (ERG) are an essential part of how we develop and empower our diverse workforce. These nine groups, which are led by associates with senior leader support, are present in over 75 countries with more than 5,600 of our associates as members. The groups are focused on talent development, recruitment, community engagement and the enhancement of our inclusive culture. Additionally, our ERGs also help drive our business forward by serving as cultural advisers on issues related to our products and working alongside our clients to drive their goals in diverse markets.