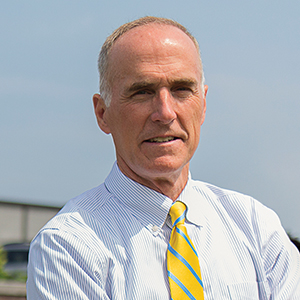 Years in Media & Broadband: 19
Education: WV Wesleyan, University of Virginia
My personal superpower is: Deep powder skiiing
My proudest professional achievement over the past 12 months is… completing a graduate degree from the University of Virginia at 59 years old.
What habit are you keeping post-pandemic? Sleeping late…
How does the country narrow the digital divide? Continue to subsidize capable operators.
How has the pandemic forever changed programming? Consumers of content curate what they want to watch, and ignore the rest.
Number of times you've flown in the past year? 0
Favorite mask? UVA — Go Hoos.
My prediction for the future of regional sports networks: Throw in real-time sports betting and tell me what you think?
What show/movie hasn't been rebooted that you wish would be? "Butch Cassidy and the Sundance Kid"
What sort of broadband will the average U.S. household need in five years? 100/100.
How many TikTok dances have you learned? What's Tik Tok?
What's the future of direct-to-consumer streaming look like? A shelf in Wal-Mart with Amazon, Netflix and Disney at eye level.
New slang word or phrase you've learned? "Fully Vaxed."
What's your COVID vaccine slogan? "Roll up or shut up…"
Your personal D&I epiphany? Bias is an immovable force…
My comfort TV binge? "M*A*S*H"
Your pandemic theme song? "Ready to Take a Chance Again" by Barry Manilow.
Status of your sourdough bread starter? No one would be surprised. I am a white bread guy.
What are you most looking forward to this summer? Outdoor concerts without social distancing.
Last podcast listened to: "How I Built This"
If you could host a Clubhouse chat with anyone, who would it be? Dr. Deborah Birx