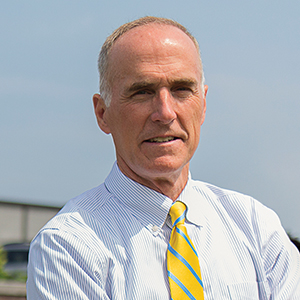 Years in Industry: 18
Education: Undergraduate – West Virginia Wesleyan College; Grad School University of Virginia
Not only does Whitaker help Shentel expand its more than 100-year-old business into cable, he is a voice for small cable operators. An ACA Connects and NCTC member, Whitaker spoke at an FTC public hearing last year on competition in rural broadband markets, explaining that small operators have invested more than $10 billion in their networks over the past decade. On the operations side, he's helped lead Shentel through its DOCSIS 3.1 upgrade and the use of PON to offer multi-gig in some instances. He's also got his eye on CBRS for point-to-point fixed wireless.
The COVID-19 Pandemic forever changed my perspective on:
Leadership
How has the pandemic shaped the industry's future?
The pandemic has put a focus on broadband as a utility, a must have and no longer a nice to have.
Number of subscriptions to streaming services:
7
Without sports on TV, I have…
Laughed my ass off watching M*A*S*H.
What about travel used to annoy you but that now you actually miss?
I spent weeks on the road when I was younger. Driving for hours, eating at Waffle House and staying in cheap hotels trying to save half of my per diem. I had a Super 8 VIP card with free HBO. Travel today is glamourous by comparison.
The future of broadband is…
Going to become more competitive. With fiber over-builders, Fixed Wireless, 5G and satellite, competition will heat up. Starting in more urban areas and moving into tier 2 and tier 3 markets.
When restaurants open back up, my first stop will be…
Our local bar/restaurant in Lexington VA, The Southern Inn.
Last content I streamed:
"The Last Dance"
Is cable recession proof?
Broadband is insulated from dips in the economy as it is viewed as more of a utility. Video losses will accelerate, and the predicted long tail of losses will shorten. Operating a great performing broadband network will only assure survival.
Slack channel I spend most of my time on?
Pleated, straight leg???
My prediction for a new business or product that could emerge from the pandemic is…
Live streaming and teleconferencing on home media. Concerns over security will be resolved and the TV will be integrated into the family face to face communication device. Zoom Family Channel…
"Tiger King" is a thing because…
We don't choose our freaks, they chose us.
The first thing I'll do when I'm back in the office is…
See if the refrigerator has been cleaned out.
My prediction for AVODs is….
It will be more pleasant that traditional linear video advertising, because it could be more targeted and effective. More content, less ads…
If I launched my own personal streaming service, it would be called…
Sit down and shut up
Biggest challenge facing advertising?
The ad technology pivot. Be first, be fast or be everyone else.
Best Zoom background goes to…
I'm a Skyper
Last show binged not on your networks:
"Outlander"
What product could you not live without?
Cordless hair trimmer.
Worst job you ever had?
I've had 8 jobs in 35 years in telecom. There were always better opportunities. Quitting is not a skill that needs sharpening.