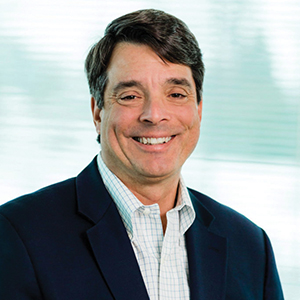 Years at Current Organization: 33
First Job in the Industry: Intern
Bucket List: Travel is high on my bucket list, so I am hoping for successful resolutions to COVID-19 and global conflicts.
What's your Wordle strategy? First word should have lots of vowels; audio and adieu are my personal choices.
How will inflation impact the media and broadband space? We will see changes in consumer behavior because necessities (groceries, gas) cost more. Payroll increases will be more in 2022 than we have seen in many years.
Band I'd go see live: Rolling Stones
What will it take to see a seismic shift away from linear television for sports? If you look back two decades, our incremental shifts actually look fairly seismic. When the platforms owned by the leagues/NCAA approach linear television revenues (not audience), then you will see the seismic shift.
What childhood memento have you kept? Baseball signed by Willie Mays
What household chore could you win a gold medal in? Organizing bookshelves