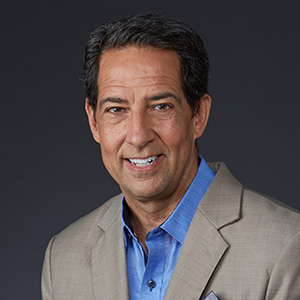 Years in Industry: 38 in television production; 21 in regional sports
Education: Broadcast Communications Arts Degree, San Francisco State University
Griggs oversees NBC Sports Boston, NBC Sports Philadelphia, NBC Sports Philadelphia +, NBC Sports Washington and NBC Sports Washington +, working closely with each RSN's general manager to make sure they are on track to put points on the scoreboard. He also oversees strategy for production and programming for the NBC Regional Networks. Among his notable work was last fall's debut of the hour-long documentary "Headstrong: Mental Health and Sports" produced in partnership with Religion of Sports, the media company founded by Tom Brady, Michael Strahan and Gotham Chopra.
The COVID-19 Pandemic forever changed my perspective on:
Everything. I enjoy and appreciate nature now, miss going to a local bar for a drink, and really miss the camaraderie of being around creative people at the NBC Sports Headquarters in Stamford, CT.
How has the pandemic shaped the industry's future?
I think it fast-tracked our already fast use of technology and caused us to rethink some of the things that "we've always done this way".
When restaurants open back up, my first stop will be…
The best dive bar with the coldest beer I can find. There's one in my hometown called "The Bruce Park Grill"
Last content I streamed:
Replays of the Oakland A's World Series victories in the 1970's on NBC Sports California. Classic memories from my childhood. A three-peat before Pat Riley copyrighted the word.
Is cable recession proof?
It will adapt for sure, but there will always be a place for cable TV.
"Tiger King" is a thing because…
As Jim Morrison and the Doors sang, "People are Strange"
If I launched my own personal streaming service, it would be called…
"Ted TV". "Ted Talks" is already taken ☹.
Working from home has taught me…
That my Millennial daughter, Sydney, is an excellent IT Technician. I couldn't work from home without her
Biggest challenge facing advertising?
To actually be creative. It's rare, and if you get it right, it is hard to repeat it. That's why I love the GEICO spots (see below).
Best Zoom background goes to…
My colleague, SVP of advertising sales for the RSNs Walter Cade. He sits between Michael Jordan and Spike Lee as Mars Blackmon. He also changes the background depending on the RSN. I've seen Jerry Rice, Dr. J, Larry Bird, Walter Payton…all right behind him.
Best TV commercial you've seen recently?
I still love all the GEICO ads. Whether it's the woodchucks, the squirrels in the attic, the gecko, or the camel on hump-day—they always make me laugh.
Last show binged not on your networks:
"Ozark" and "Hollywood"
Worst job you ever had?
When I was 19 and living with my brother in Reno, NV…I guarded bricks by sitting in my car from 10pm to 6am at a construction site. I weighed 125 lbs…not sure what I would have or could have done if someone tried to steal them.