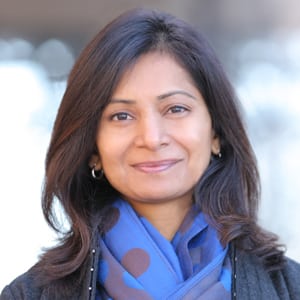 Vootukuru is a keen negotiator and relationship-builder, and she's a key force behind the distribution and platform partnerships that drive Sling TV's growth. The launches of a tailored Windows 10 app and of Sling TV on Comcast's X1 platform are just a few of her recent accomplishments. Additionally, she expanded her team from a four-person outfit to an organization able to manage operations at scale. Her formula for busting stress? "Lots of family time and hugs, cooking, music, reading and hiking—in that order!"
Who is your favorite current female TV character and why?
Undoubtedly, perhaps unoriginally and almost predictably, Daenerys Targaryen from "Game of Thrones"
What industry topic do you think will dominate industry headlines in 2018 and why?
The revival of OTA technology and sustaining strategies for live, linear OTT players. The live OTT space saw a surge of entrants these last two years, and the focus now will be driving a scalable model that puts consumer needs first. We think Sling TV established that lead and is poised to meet the challenges needed to transform the industry.
What famous woman, living or deceased, would you like to have dinner with?
It's a list of many accomplished and intriguing women, and hard to choose one! Perhaps Meg Whitman, Sheryl Sandberg, Melinda Gates, Malala Yousefzahi, RBG or Oprah.
Best advice for relieving stress?
Lots of family time and hugs, cooking, music, reading and hiking—in that order!