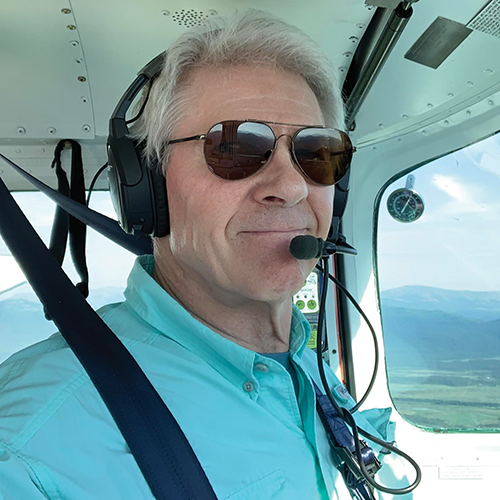 Years at Current Organization: 43
Bucket List: Fly around the world in my own plane
What does the metaverse mean to you? For our industry it means the demand for connectivity will continue to grow as consumers gain access to limitless virtual entertainment, education and work experiences without ever leaving their homes. What the metaverse means for society is still unclear. The metaverse doesn't mean too much to me personally right now. I'm still a big fan of the real world. If my choice is metaverse or universe, I'm Team Universe.
What's your Wordle strategy? I don't play Wordle. I'm more of a 4-letter word guy than a 5-letter word guy.
How many companies have you worked for? The one I started
What creative property do you hope does NOT get adapted into a show, movie, or remake? "Tiger King" season 3. Don't do it.
The phrase "digital divide" will go away when… GCI has been working to close the digital divide for more than 40 years—before people even knew the term "digital divide". What we forget when we look at the digital divide is that it is not static target. It's constantly moving because technology is constantly evolving. And while it's an aspirational goal to close the digital divide, it's never going to close. New technology is always going to start first in the largest urban areas and the places with the most advanced networks. It's going to arise in New York and San Francisco, and the industry will work very hard to deploy the advanced technologies in rural areas. So, this battle against the digital divide is a lifelong, endless battle because the goal posts are going to be constantly moving. With that said, looking back over the last 43 years, I'm proud of how much we've accomplished. When we first started the data business in Alaska, our high-speed modem was 256 Kbps and now we're at 2 Gbps for consumer-level services. That's incredible progress.
Favorite dish that I can also make myself: I'm not a big cook. But I can be relied upon for a solid wine pairing with any meal.
If my company had a mascot, it would be: At GCI we like to think of ourselves as Alaska's technology trailblazers. So, an Iditarod sled dog would be a good fit for a GCI company mascot. They're always blazing new trails.