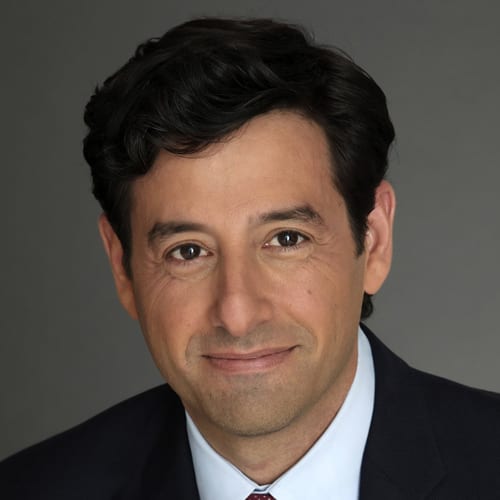 Years in Cable: 15
Education: BA, Brandeis University; MA, American Studies, NYU
One Word that Best Describes Me: Hungry (literally and figuratively).
Bennett and Sharenow are two of the reasons A+E Networks is at the top of its game. Promoted in September to the helm of History after launching FYI and overseeing the successful LMN rebrand, Bennett led History to finish 2015 in the top 10 among A25-54 for the seventh consecutive year. Building on recent specials on Donald Trump and the Paris attacks, look for her to continue to probe more recent historical events—not to mention the premiere of miniseries "Roots." Also promoted last year, Sharenow is steering innovation at A&E and Lifetime, including the concert Shining a Light: A Concert for Progress on Race in America and accompanying special, which aired across the A+E Nets portfolio and reached 12 million Total Viewers. He also oversaw Lifetime's original scripted series "UnREAL," which launched as the network's most critically acclaimed scripted series.
Last show I watched not on my network(s): I'm a big fan of "Broad City," "Veep," and "Catastrophe." I guess I like funny women.
My first job: It wasn't my first job, but the only job I ever quit was updating and writing entries for the single volume Columbia Encyclopedia (1995 Edition). I was one of a half dozen Ph.D. candidates locked in an airless room researching arcane facts about South East Asia and this was before people used the internet for research. It was not for me.
If this election year was a reality TV series, it would be called… "The Primary Colored Apprentice"
What was the last costume that you wore and why? I was the beast from "Beauty and the Beast" in an elaborate group custom of several Disney Princesses and Princes for a friend's party. It was all fun and games until I had to fight a dude dressed as Gaston.
I watch the majority of programming on this device: Tie between TV and computer (desktop and laptop).
My Starbucks order: Grande iced Americano with extra ice, not much water and a splash of half and half.