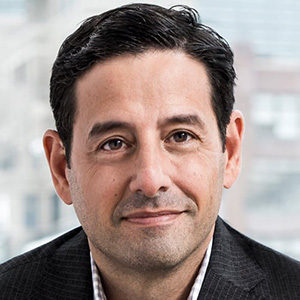 Years in Industry: 20
Education: B.A. Brandeis University, M.A. New York University
This content team is responsible for some of the biggest hits from the A+E Networks in recent years. In 2019, under Sharenow's leadership, A&E was a top five cable net for the first time in 10 years, one of only two top 10 nets to post growth, traced to shows like "Live PD" and "Court Cam." With A&E canceling Live PD in the wake of the Black Lives Matter movement, Sharenow will have to dig deep to find another breakout hit. Jossen oversaw the production of "Project Blue Book" on History, a top 10 overall drama on cable. He'll be busy in 2020, with the studio having over forty projects in active development at multiple networks and streamers.
The COVID-19 pandemic forever changed my perspective on:
Time and making the most of it.
How has the pandemic shaped the industry's future?
There is more uncertainty and confusion about the long-term future of consumption. Yet, the same truth tends to prevail no matter what: Pre or post COVID-19 — great original content always wins.
Number of subscriptions to streaming services:
5 (including Lifetime Movie Club and HISTORY Vault — and yes — I have to pay for those)
Without sports on TV, I have…
Cried myself to sleep thinking about how well the Celtics would have done in the playoffs this year.
When restaurants open back up, my first stop will be…
Rosa's La Scarbitta in Mamaroneck.
My prediction for a new business or product that could emerge from the pandemic is…
My wife and daughters had great success with our recently purchased home dog grooming kit. Although I'm not sure our dog would agree.
"Tiger King" is a thing because…
Mullets are TV gold.
Best Zoom background goes to…
My parents turned on the tropical background two months ago and haven't figured out how to turn it off. So they are forever on a Hawaiian beach on Zoom, but suburban Massachusetts in reality.
Last show binged not on your networks:
"Unorthodox."
Worst job you ever had?
While in graduate school, I wrote entries for the single volume edition of the Columbia Encyclopedia. A bunch of PhD candidates were stuffed in an airless room doing research and writing ten hours a day…and this was before the internet. It was like an intellectual sweatshop. I only lasted two weeks.