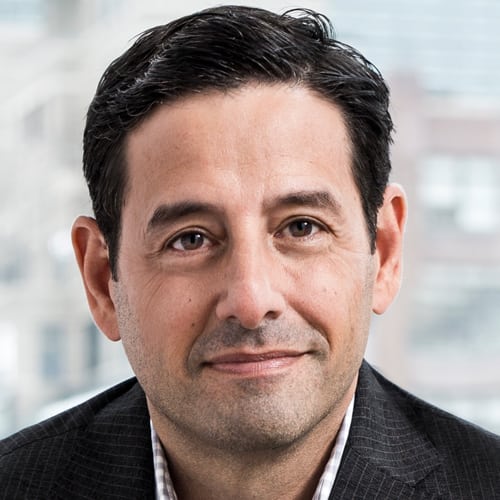 Years in Industry: 19
Education: BA, Brandeis; MA, NYU
Motto I Live By: Always stay hungry (both because of the need to be engaged in life and work, and I love to eat).
There's nothing better than when your hard work makes an impact. The content emerging from A+E Networks channels and studios, curated by Sharenow, has sparked some serious conversations around the water cooler. "You" had folks falling for the bad guy with a killer smile while Lifetime docuseries "Surviving R. Kelly," the most social program in network history, shed a new light on the man behind the music.
What item in your home or office most "sparks joy" in you? It's a tie between photos of my family and my wife's paintings.
Last show binged not on your networks: "Salt Fat Acid Heat"—It made me want to eat, travel and hang out with Samin.
Last linear content you watched live: "Live PD" (of course)
Who would you cast to play yourself in the story of your life? Robert Downey Jr. (A great actor and a fellow Robert)
How do you stay motivated in your job? Getting to help make dreams and raw ideas become realities
Biggest challenge facing the industry? The chaos of an overflooded world of content with no curation
Favorite board/card game: Scrabble. It's all about the two letter words. I have very good QI.