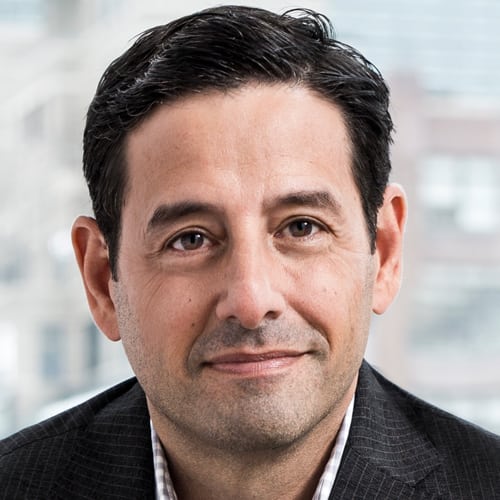 Years in Cable: 18
Education: BA, Brandeis University; MA, American Studies, NYU
When he was named to his current position in July 2017, Sharenow gained oversight of content for the entire A+E Networks channel portfolio. He embraced the challenge, streamlining the creative structure. Lifetime's original content output was doubled while maintaining quality, with "UnREAL" winning a Peabody Award and being nominated for an Emmy. In a year dedicated to celebrating diversity, Lifetime was ahead of the pack, seeing 100% of its scripted offerings being showrun by women. Sharenow also led A&E to eight consecutive months of growth and saw it become the fastest-growing entertainment cable network among the Top 35 with the success of "Live PD." History wasn't far behind its fellow networks with the continued buzz surrounding "Vikings" and the premiere of Knights Templar series "Knightfall." 2018 will see Sharenow continuing to drive these networks to new heights, taking risks and leading his team through it all with a sense of humor and an air of positivity.
Favorite restaurant? La Scarbitta in Mamaroneck
Best advice your mom or dad ever gave you? Do something you love for work.
Worst advice your mom or dad ever gave you? My folks are not the most tech savvy pair. They chose Betamax over VHS, which was the 1983 version of picking Friendster over Facebook.
Bitcoin – pro or con? I'm waiting for Rai stones to make a comeback. They weigh a couple of tons each and were used as a currency on the Yap islands about a thousand years ago. You'd probably have as much luck using one of them to buy a latte at Starbucks as Bitcoin right now. And you'd get a work out!
Last show I binged not on my network(s): Probably, "Brooklyn Nine-Nine." But I'm most addicted to Fios 1 local News.