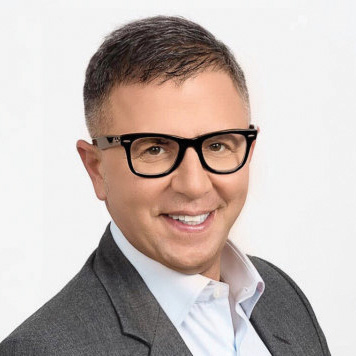 Years in Media & Broadband: 25+
Education: BA, Economics, European Business School; Executive MBA, Instituto de Empresa International, Madrid; CTAM U Executive Management Program
My personal superpower is: Positive attitude and empathy
What's the future of direct-to-consumer streaming look like? We see the streaming space evolving very quickly, mirroring, in some ways, the evolution of traditional TV… ViacomCBS offers streaming experiences for all consumers with an ecosystem that spans free, pay, and premium, including our premium service Paramount+ and a free, ad-supported option with Pluto TV.
Your personal D&I epiphany? There's no one epiphany, as I have always been on the front line supporting key issues that are part of a long-standing global debate, such as gender equality, LGBTQ+, women's empowerment and sexual diversity. I believe it is important to never back down when it comes to creating a diverse environment where everyone feels included and can speak up about critical topics.
My proudest professional achievement over the past 12 months is… I'm proud to have led ViacomCBS Networks International during a time of rapid evolution, as we disrupt the global streaming landscape with the launch of Paramount+ in the U.S., Canada, Latin America, the Nordics, and soon Australia while simultaneously expanding Pluto TV to reach a global audience of more than 50 million monthly active users across three continents and 25 countries. I'm also proud to have focused on maximizing the company's traditional business, which includes free and pay TV networks. This includes the company's recent announcement of its agreement to acquire Chilevisión, which includes the market-leading (FTA) television network in addition to a robust content library and pipeline and significant studio production assets that will position ViacomCBS International Studios as the leading Spanish language content producer in the world. Finally, I'm proud to have enabled VCNI to maximize its IP visibility with the integration of Consumer Products within our streaming strategy, which has created a powerful revenue opportunity. Earlier this year, we finalized a deal with the Japanese e-commerce and internet giant Rakuten. The partnership connects the world of streaming with consumer products' world for the first time, launching Nick+, the Nickelodeon SVOD service, linked to a curated Nickelodeon e-commerce storefront, cross-promoting streaming, content, and e-commerce.
How has the pandemic forever changed programming? With more audiences at home, viewers have watched more content in this past year than ever before, accelerating consumer behaviors related to streaming. As a global content producer and network leader in linear and nonlinear, this is a great momentum full of opportunities. Our biggest priority during the last year has been to reach audiences anywhere and everywhere they are consuming content. Traditional linear TV–for all our brands and channels–remains a core part of our business, and we do not intend to move away from it. Streaming at the same time is taking over a new space into the media scenario. The mix of both linear and nonlinear is the right combination. We've seen that by having robust programming offerings in each segment – linear, streaming, free, and premium–we can migrate consumers across each platform through promotion and bundling, which creates advantages in subscriber acquisition, retention, and lifetime value.