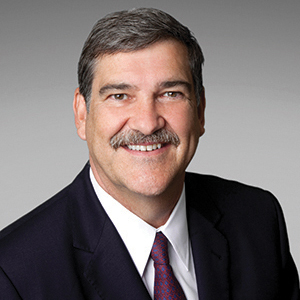 Years in Industry: 39
Education: MBA
A 14-year veteran of Cox, Kirk has been living in Oklahoma City for more than a decade now and is the 2019-20 chair of the Greater Oklahoma City Chamber. He's responsible for leading operations in Arkansas, Kansas, Idaho, Iowa, Nebraska and Oklahoma. Ask him what he's most proud about at work this past year, and he'll sum up Cox's philosophy. "Take care of our customers, our employees, and our communities and the business results will follow," he says.
The COVID-19 Pandemic forever changed my perspective on:
The roles and number of people who can work from home.
When restaurants open back up, my first stop will be…
Mahogany Steakhouse in Oklahoma City. It is the best!
Last content I streamed…
"Ozark"
The first thing I'll do when I'm back in the office is…
Start walking around to check in on people. I miss the day to day interactions with our incredible team.
Working from home has taught me…
What a great wife I have. I've actually always known this, but I'm able to see her in action more closely during the day and she is an amazing woman.