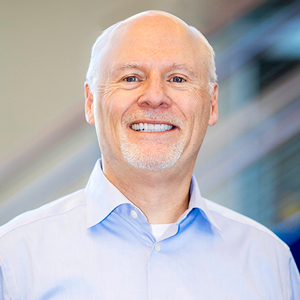 Years in Industry: 39
Education: Augustana University, BA in Accounting 1981
McAdaragh keeps the South Dakota-based operator on the cutting edge, successfully completing CBRS testing last year with plans to use the CBRS band to deploy high-speed fixed LTE wireless broadband throughout its rural footprint. Late last year, Midco began a $6.5 million project to expand and update its ability to provide data storage services in Sioux Falls—a sign of its growing number of business services clients. But McAdaragh leadership also extends to keeping Midco focused on giving back. The Midco Foundation gave $250,000 to food banks in its footprint during the pandemic. It also doled out more than $100,000 to 68 nonprofits, schools and government organizations that have been recognized as positive changemakers.
The COVID-19 Pandemic forever changed my perspective on:
The purpose of offices and other facilities.
How has the pandemic shaped the industry's future?
The pandemic has forced a quick re-prioritization toward what is mission essential now, leaving many formerly urgent futuristic priorities to be delayed, put on hold, or cut. The benefits of a broadband connected society have been reinforced. The entertainment and advertising industries, already in a long transformative cycle, will emerge with different business plans. Hopefully all will get back on an upward trajectory.
Number of subscriptions to streaming services:
Three, EPSN+, Netflix, and Amazon Prime – looking forward to checking out Peacock and HBO Max
Without sports on TV, I have…
Played more board and card games, and watched "The Last Dance" about Michael Jordan
What about travel used to annoy you but that now you actually miss?
I miss the freedom of movement across North America and don't miss the airport hassle at all.
The future of broadband is…
More and better
When restaurants open back up, my first stop will be…
Ciao Bella in the Twin Cities
Last content I streamed:
"Waco"
Is cable recession proof?
That is a bold statement, I'd say in this current crisis cable/ISPs are recession resistant.
My prediction for a new business or product that could emerge from the pandemic is…
Halos that are six foot in diameter
"Tiger King" is a thing because…
Reality is stranger than fiction, and people eat up strange and weird—and the Tiger King is both strange and weird
The first thing I'll do when I'm back in the office is…
Sit down in my chair, do a 360-degree spin, and then take a deep breath and exhale slowly
My prediction for AVODs is….
Success, I believe that the 100% ad supported model will persist and meet the needs and preferences of many people. I do not think it will be the dominant model.
If I launched my own personal streaming service, it would be called…
Eclectic
Working from home has taught me…
Focus on what I can control, even more so than normal lifetime—and what I can control is myself.
Biggest challenge facing advertising?
The long-term negative economic impact on large, medium, and small companies and their advertising budgets.
Best Zoom background goes to…
Phil McKinney, CEO of CableLabs
Best TV commercial you've seen recently?
All the commercials seem so similar, although I do like Uber's "Thank You for not Riding."
Last show binged not on your networks:
"Dateline," my wife starts watching and then I get hooked
What product could you not live without?
A robust broadband connection, food and water.
Worst job you ever had?
Picker and packer on the line at a golf equipment mail order company during two months of my college life—way too much structure for me.