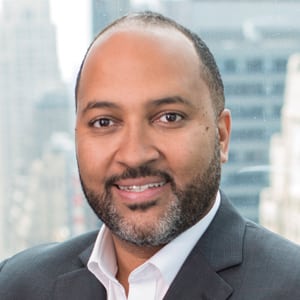 BET continues to deliver content that resonates with its target viewers, including recent coverage of Aretha Franklin's funeral and miniseries "The Bobby Brown Story," a ratings high note. Armstrong continually identifies new opportunities for BET while overseeing strategy, branding and operations of programming launches. This past summer, he attended the inaugural Multicultural Media Summit at Viacom's Campus to Career program. He told attendees by showing up they'd taken their first career steps. "We are not a trend," he says of increased visibility of minorities in such films as "Black Panther." "We are the future."
What's a recent example of a step forward for diversity in the industry?
"Black Panther" and "Crazy Rich Asians" are recent examples that stories told authentically by people of color and about people of color can be fabulously successful. We are not a trend, we are the future.
In what areas should the industry step up its efforts with regard to diversity and inclusion?
More steps forward, less steps backward. The industry is better at attracting than retaining talented people of color. We need to keep a keen eye on retention and develop strong corporate cultures to retain these great employees. It is the equivalent of buying plants but never watering them. Support NAMIC! It cannot be overstated just how much this organization and network of professionals have improved diversity and retention in this industry over the last three decades.
What's your best advice to someone just entering the video content/distribution industry?
This business changes by the minute. Never stop learning and growing. Trust that you and your colleagues can alternate daily as teacher and student. We build strong businesses when everybody brings their knowledge, insights and expertise. No one person has all of the answers.