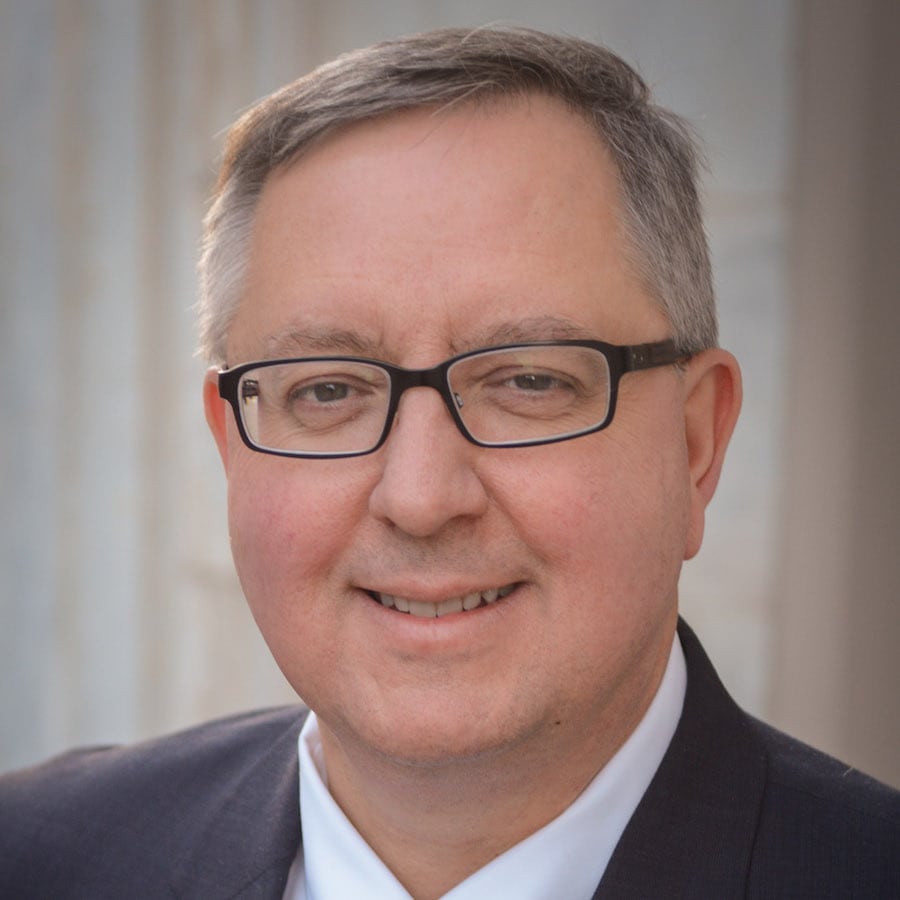 Years in Media & Broadband: 33
Education: BS, Journalism, West Virginia University: JD, Duquesne University School of Law
My personal superpower is: I type like the wind
What habit are you keeping post-pandemic? Probably working primarily from home. Our DC guys have been doing it for years before the pandemic, and why should they have all the fun?
Favorite C-SPAN Bus memory? Lots of them, but I always loved seeing the bus on the show floor at the National/NCTA Show. It was just such a great, big example of what our industry has contributed to our country, among many things.
If you could host a Clubhouse chat with anyone, who would it be? I had to look up "Clubhouse chat," but now that I know what it is, given what I do I think I would invite Tip O'Neill and Ronald Reagan, bring them up to speed on what is going on in DC these days, and then see what they had to say and whether we could learn how to make things better in our politics, country, and world.
Number of times flown in the past year? Since March 1, 2020, a grand total of eight. In normal times, I'd do that in a week. Cannot wait to get back in the air!
My prediction for the future of regional sports networks: Relevant and important but declining. Streaming may become more of a real thing as RSNs try to keep subscriber-share, and retrans/programming negotiations will continue to heat up over them, but as more sports content is streamed online the RSNs will not be the only games in town.
What show/movie hasn't been rebooted that you wish would be? Totally putting my superhero geek hat on here, but DC needs to do a good "Green Lantern" movie. No disrespect to Ryan Reynolds…
What sort of broadband will the average U.S. household need in five years? The push is definitely on for FTTH at symmetric speeds, but it's not a necessity as our Members have shown through the pandemic. Moving closer to 1 gig downstream makes sense.
New slang word or phrase you've learned? "What vaccine did you get?" I laugh internally every time I hear this, as if we are choosing a good wine!
Last podcast listened to: "American Scandal — The Unabomber"; a fascinating, yet chilling story, and even more chilling today because of those who are being drawn to Ted Kaczynski's philosophy that all technology development, along with the creation of "big tech," is harmful to society and must be stopped.
My proudest professional achievement over the past 12 months is… Having the privilege to work with and lead a Team at ACA Connects and its Membership who were dedicated to each other, and to their customers and communities every day, never missing a beat to step up, serve and help others without ever being asked. It's an unsung and untold story of the pandemic, and if it weren't for our Members who kept their communities working, learning and connected, the outcome would have been far worse.
How does the country narrow the digital divide? First, recognize the incredible work ISPs did to meet the pandemic need with capacity to spare because of the ability to invest, innovate and deploy prior to the pandemic, fostered by a light touch of regulation. Second, accept that ISPs are not the enemy, but rather a partner to all in serving their customers and communities with broadband. And third, the private sector and the public policymakers must work together to recognize and reasonably fill the broadband gaps that exist in both deployment and affordability, without over-regulation or the threat of overbuilds where broadband already exists.
How has the pandemic forever changed programming? Rather than changed, I would say accelerated. Look at how many streaming services there are now that are reaching heights because of the pandemic with people home watching. It is kind of like the early days of cable programming with so many networks. Things will settle and consolidate, and there will be winners and losers, but streaming is here to stay.
How many TikTok dances have you learned? Proud to say, not a one! But I did not download it because I'm told TikTok poses a cyber threat from a very large communist country. Is that right? I have seen, however, TikTok videos of a chihuahua named "Morty," who is literally hilarious.
What's the future of direct-to-consumer streaming look like? It is a bit like the wild west now with so many streamers vying for consumers' attention, and that will continue for a while. But there will be more consolidation into several major platforms. Kind of sounds like cable used to be, eh? The big question is whether the streamers then try to charge a per subscriber monthly fee for all broadband subs, whether a customer subscribes to the service or not. When that happens, content-operator sparks will fly, and DC will need to get involved for sure.
What's your COVID vaccine slogan? Two actually… One from my sci fi geek side – "Never Give Up! Never Surrender! from Galaxy Quest. And the other much more important one I learned in worshipping with my Brothers and Sisters in the African-American community, "Keep on, keepin' on!' Demonstrate your faith every day, and keep on moving forward!
Your personal D&I epiphany? We must take the time to stop, listen and seriously talk with one another, even if the conversations are challenging and difficult. We cannot assume we know what someone else is thinking or what their experiences have been like, and we can't hate or let ourselves be divided. Now is the time when we should most be sharing grace, mercy and understanding, based on love we are called on to share with each other.
My comfort TV binge? The list is loooong – I made a good dent in all the various Star Trek series; rewatching Phase 1-4 of the MCU (again…third time); WandaVision and The Falcon and The Winter Soldier…can't wait for LOKI too; catching up on various movies I haven't yet seen on my watch lists; and just watching random YouTube videos – the more random the better!
Your pandemic theme song? Something upbeat, like "A Promise," from the Avengers soundtrack – We will always be here, and you can always count on us.
Status of your sourdough bread starter? Sadly, not even past the starting line.
What are you most looking forward to this summer? Repeating a joy of last summer, which was a nearly perfect, disconnected week at the beach with no agenda other than setting up on the beach in the morning and reading all day. But I'm most looking forward to seeing and connecting with real people once again – seeing our Members, traveling, going to movies, eating out, and appreciating the blessings we are given each day.