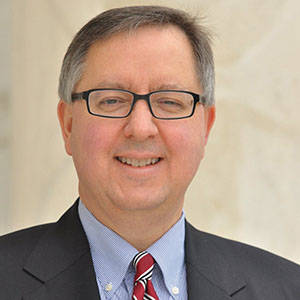 Years in Industry: 32
Education: B.S Journalism (News/Editorial), West Virginia University, Morgantown, WV, 1982; J.D., Duquesne University School of Law, Pittsburgh, PA, 1986
With their member companies navigating a world no one could imagine at the start of 2020, these three have stayed level-headed and offered wise counsel. Polka was the first to make the decision to cancel a big event—the annual ACAC Summit in DC—because of the pandemic. Powell was an early leader in closing NCTA's office and promoting telework. Both organizations have published statistics showing how the broadband network has weathered COVID-19 (spoiler: quite well). Over at NCTC, Fickle got 2020 off to a bang with a down-to-the wire carriage renewal with Fox Corp that included Fox News and FS1. The co-op has been on a roll, closing deals for the Turner nets and HBO Max as well as reaching an arrangement with Amazon that lets members buy Fire TV devices as discounted prices.
The COVID-19 pandemic forever changed my perspective on:
How really NOT "in control" we are, despite how much we like to THINK we are.
How has the pandemic shaped the industry's future?
More tele-everything. Work, customer service, installations, meetings, conferences, health, you name it. The common denominator will be broadband, and this is our industry's moment to shine!
Number of subscriptions to streaming services:
Yikes, eight! — Netflix, Amazon Prime, Hulu, Disney+, Peacock, Curiosity Stream, and AcornTV. We also watch a lot on YouTube for free, and I buy and watch movies a lot on VuDu and Movies Anywhere. That's a lot of TV and movies!
Without sports on TV, I have…
Actually been ok. I haven't missed it as much as I thought I would, and I don't mind not having to experience the regular emotional ups-and-downs for my favorite team (the Pittsburgh Penguins) jockeying for playoff position. However, I still very much think all consumers deserve significant sports programming fee and retransmission consent credits from sports leagues, sports programmers, broadcast networks and groups for no live sports for more than three months.
What about travel used to annoy you but that now you actually miss?
I'm a minority in that I LIKE to travel and most if it doesn't annoy me! But I miss being out in the world and able to go where you wanted without concern of catching a virus. I miss seeing people, seeing members, going to new and old places, and the excited buzz of airports, airplane and aviation. Yes, I'm a certified #AVGeek.
The future of broadband is…
Essential. We all need it, and we need it more than ever. But if Washington tries to regulate it to prevent ISPs from investing in it and deploying it, they will kill it just when it's needed most.
When restaurants open back up, my first stop will be…
Literally, anywhere. Maybe an old favorite, "Eat 'n Park" here in the Pittsburgh area for a famous "Big Boy" "Super Burger!"
Last content I streamed:
The very last episode of Star Trek (The Original Series), "Turnabout Intruder." I finally made it (again) through all of the originals episodes.
Is cable recession proof?
Yes and no. Yes, because our ACA Connects members provide many video options through cable and streaming that our customers are continuing to consume. But no because the video (cable TV) model continues to break under the enormous weight of retransmission consent and sports programming fees where consumers have virtually no choice other than to take it or leave it.
My prediction for a new business or product that could emerge from the pandemic is…
I have always thought that our ACA Connects members as broadband providers could do more for their communities than ever imagined by partnering with hospitals, doctors, the health industry and the vendor community to be the catalysts to truly make tele-health an everyday reality.
"Tiger King" is a thing because…
Everyone says it is. I haven't watched it, but from what I have seen the guy seems like a nut!
The first thing I'll do when I'm back in the office is…
Email. What's new? 🙂
If I launched my own personal streaming service, it would be called….
"QAtv" – I know, I'm no marketing genius… I have always had an insatiable curiosity on just about everything, and I feel like I have never stopped learning. How fun it would be to take questions from the planet and create shows to answer those questions!
Working from home has taught me…
That I can keep on, keepin' on with what I do and not miss a beat. I think a lot of us have come to that realization and will now start to re-think why we need to have the traditional office.
Best Zoom background goes to…
Me, although I don't mean to brag. People often say I should have a Pittsburgh background, and instead of the Golden Triangle, the city's skyline, or one of my Black-and-Gold teams, I put up a background of the bus that got swallowed up in a pothole. #ItsABurghThing!
Best TV commercial you've seen recently?
The Liberty Mutual ones are good and funny! I love the one with the guy and emu racing next to another car and the guy yelling out, "Take my card! I can SAVE YOU a LOT of money!" And then both cars stop at a red light to an awkward silence. Hilarious!
Last show binged not on your networks:
"Belgravia," on Epix. It has helped to assuage my continued feelings on the loss of "Downton Abbey."
What product could you not live without?
Our Keurig machine (Hugh Jackman's "Laughing Man" coffee is good!), and my iPad.
Worst job you ever had?
That's easy…shoe salesman at the old "Thom McAn." Yikes, working with people's feet…let's just leave it at that.