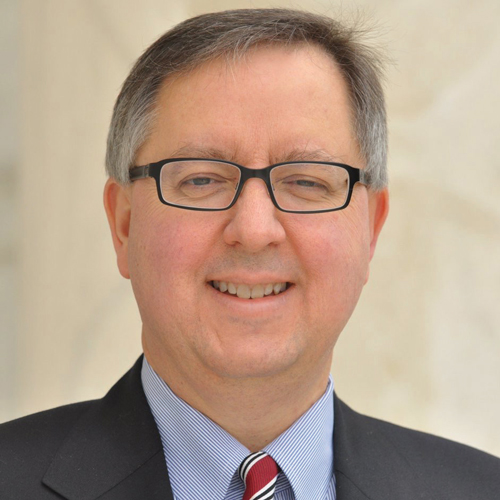 Years in Industry: 31
Education: BS, Journalism, West Virginia University; JD, Duquesne University School of Law
Motto I Live By: Serve others. It's not about you.
My prediction for direct-to-consumer video is… It's here to stay. Consumers wanted more choice, and DTC gives it to them. The big programming networks will never be able to replicate the glory days of the big cable bundle.
What do you think will be the biggest game changer to come from 10G? Probably the complete digitization of our homes, along with enabling the use of more robotics and AI, not to mention the stunning new quality of video we will see.
What item in your home or office most "sparks joy" in you? My Pittsburgh Penguins coffee mug the morning after a win, but looks like I will have to wait until October for some more of them! Thank you, Islanders… : -/
Best brand campaign you've seen lately? I'm a superhero geek, and I love "The Avengers," so I'd have to say the incredible build-up for AVENGERS: Endgame. #TeamCap
Last show binged (not on your networks): Right now I'm watching on Netflix "The War" by Ken Burns. But I have tons of shows on Amazon Prime, Hulu, and Apple TV to watch as well. Other than sports, this is where I watch 90% of video.
Last linear content you watched live: As a series, Chicago PD-Fire-Med on NBC, but then lost track two years ago. Otherwise, for reality TV, Live PD on A&E. However, my wife and I watch every day and absolutely love QVC!
Who would you cast to play yourself in the story of your life? Well, while I would like to say Chris Evans, AKA Captain America, would be up for it, my two closest lookalikes in Hollywood would be either Dustin Hoffman or John Hodgman. The resemblance with Hodgman as "the PC guy" is incredible.
How do you stay motivated in your job? This is easy. I serve our Members. They are awesome and so inspirational, and I know they appreciate how we try to serve them. It has truly been a labor of love!
Latest slang phrase or hashtag you've learned from your kids? Never watched one episode of it, but by the number of times I see the hashtag, I'm guessing that there are a lot of #GOT fans out there!
Biggest challenge facing the industry? The unfair and untrue perception that internet service providers (ISPs) are bad, as painted by the "netizens" and Title II supporters who think ISPs need to be heavily regulated while they shrug when it comes to holding "Big Tech" edge providers (T-FAANG) accountable for how they collectively harm consumers, competition and the internet. Our industry CREATED broadband and we have no reason to want to harm our customers' use of the internet in any way. The irony is that if the netizens win, it will result in less broadband deployment and investment by ISPs, not more.
Favorite board/card game: Monopoly. It brings out my hidden Robber Barron. Seriously, I'm ruthless and competitive.
Favorite podcast: Other than our own ACA Connects Podcast (I'm biased!), I have two: GPS: God. People. Stories.; and 99% Invisible.
Subject you wish you'd studied at school and/or subject you studied and wish you hadn't? I loved performing in musicals when I was younger, and always wanted to pursue a music performance degree. But the Good Lord steered me to the law and to cable, giving me a truly blessed career!
What quality do you look for when promoting someone? Commitment to TEAM and servant leadership that focuses on improving personal relationships.