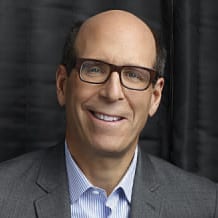 Years in Cable: 41
Education: University of Pennsylvania's Wharton School of Business; Barcuh College
With a compelling current lineup—including its highest-rated new series "Billions"—and strong overseas sales of its original programming, Showtime this year stacked up to be a property Bobby Axelrod would want a piece of. Blank, who's been at the net since 1988, is adept at fostering strong relationships with current distribution partners and forging new alliances. And with Nevins at the wheel, digital growth continues to be a big Showtime story; its streaming service this past year grew to more than one million subscribers with launches on platforms including Amazon Channels and Samsung Smart TVs, and in a host of international markets. Nevins also amplified the programming surrounding the 2016 presidential election this year by creating "The Circus," and greenlit the hit Stephen Colbert live election night special.
Q&A
The best thing about fast broadband is… OTT options
What are the top three qualities you look for in a hire? Intensity, curiosity, smarts.
If President Trump tweeted about you, he would say… HUGE!!!
How do you celebrate your birthday? Dinner at Peter Luger with family.
What product or service could you not live without? iPhone.
How long is your morning commute? 15 minutes.
Favorite Saturday morning cartoon from your childhood? "Heckle + Jeckle."
Last show I watched not on my networks: "Bull"