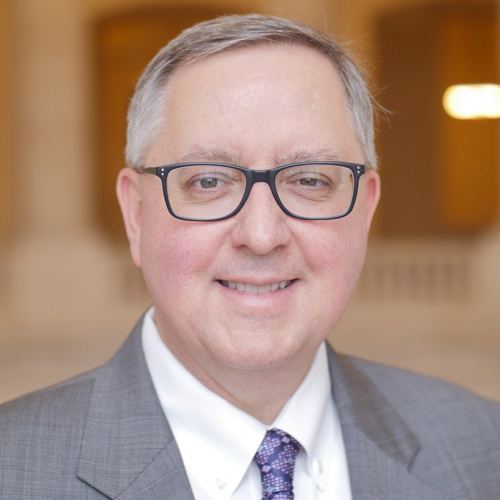 Matt Polka's Legacy of Kindness, Persistence
By Amy Maclean
If there is someone with a bad word to say about Matt Polka, this reporter couldn't find them.
"You can't dislike Matt. He worked around the clock. I suspect he got up in the morning and the first thing he thought about was his itinerary with the association. He was connected 24 hours a day. I don't think you'd ever find a member who would say they couldn't get hold of Matt," says Buford Media Chairman Ben Hooks, who was a member of the board that hired Polka in 1997 as the first head of the Small Cable Business Association, known today as ACA Connects.
After devoting 25 years to the association as its CEO, Polka will retire in late July. Along the way, he's fought for independent operators, sharing their particular challenges with the FCC and members of Congress. He's battled against Title II broadband classification, government-funded overbuilding and, of course, a retransmission consent regime that his members view as unfairly weighted toward broadcast TV owners. Perhaps the best way to understand the kind of person Polka is would be to ask the National Association of Broadcasters about him.
"He's been so successful because he's impossible not to like, even when he's terribly wrong—see retransmission consent. How can you not respect and admire the job he's done at ACA Connects?" says longtime NAB EVP of Communications Dennis Wharton, who retired in 2020 and was responsible for dozens (hundreds?) of press statements batting down ACAC's retrans demands. "It helps that Matt has represented 'the little guy,' which plays well on Capitol Hill. But Matt's success comes from his genuine decency and strength of character. ACAC members are lucky to have had him at the helm for so long."
It was almost a near miss. In 1993, 150 cable operators gathered in Kansas City to create the association as a unified voice to push back against federal regulations. The initial notice for the meeting went to Polka's colleague at Star Cable. "I wasn't even aware such a meeting was being planned. A day or two before it was scheduled, he came to me and said, 'I can't go to this. Why don't you go?' I went, and ultimately, that was a life-changing decision," recalls Polka.
For the first four years, the association operated more on an ad hoc basis helmed by its voluntary board of operator members. In May of 1997, the operators decided the organization needed to be a full-time endeavor with a dedicated CEO. At the time, Polka was Star's General Counsel and member of the SCBA board. "We realized there just wasn't a candidate for CEO because the association really was at ground zero. We had basically nothing to offer," he explains. "So like Mikey in the Life cereal commercial, they said, 'Hey, let's get Matt. He'll do it. He's a lawyer. He's been working for one of our members. He knows the issues.'"
The timing was fortuitous, with Star Cable preparing to be sold. "I jumped into it, not knowing what the future would hold, or how long it would be," Polka says. "However, not too long into it, it really became a calling in many ways. I started to tell myself that I thought it could last, if we did it the right way."
Sun Country Cable's David Kinley, who was a founder and the chairman of the Small Cable Business Association in those initial years, has an apt aerospace analogy for Polka's contributions. "The SCBA Board had developed a concept of unanimity—no one left behind, each company directly telling its own story. Like the Wright Brothers, we worked to fashion a different concept and prove it could work for enough companies to sustain an organization. Matt was like Boeing," Kinley says. "He took it to a much higher level of performance and efficiency. The Wright Brothers developed their Flyer, which could sustain heavier-than-air flight for about a minute over 120 feet. Boeing transformed that concept into a fleet of aircraft capable of flying over 17 hours and 17,000 miles."
Those early days saw Polka working out of an office in Pittsburgh sublet from Star. He linked up quickly with lobbyist Rhod Shaw of The Alpine Group, a relationship that is still in full force today. But there were some doubts in the beginning. "He called me out of the blue and said, 'Hey, I need some help on an issue. Some people suggested that I call you,'" recalls Shaw. Polka proceeded to tell him about the problem, the particulars lost to time. But what Shaw does remember quite well is Polka explaining that the association had just lost on the Senate floor 99-to-nothing and the House passed a bill the group didn't like 412-to-8. "He said, "You can tell I need help, and I'd like to hire you.' I told him that I actually didn't want to take his money because I couldn't help. You needed help a while ago," says Shaw.
As often is the case, Polka persuaded Shaw to get on board anyway. And like the underdog that ACAC has always been, they pulled out a win, with Shaw working to convince Sen. Phil Gramm to reconsider and hold up the bill's conference. "Most people probably don't remember the first conversation with somebody, but I remember my first one with Matt," laughs Shaw.
When the organization first emerged, it wasn't met with open arms, because ACAC's mission didn't always align with NCTA or other established players. "When we came on the scene in D.C., we weren't really welcomed. We were seen as outsiders trying to upset what was a fairly comfortable applecart," explains Polka. "When I look back, one of the things I'm most happy about is that over time, I think everybody has come to see us now not as anti-industry, but as zealous advocates for our members and their unique issues. We love our industry and want to do everything we can to see it prosper because we are a part of it."
Over the years, Polka became a regular at events and serves as Secretary Treasurer for the Cable TV Pioneers. "We made a very strategic point to be a part of these groups, to reach out to state associations and provide our help and support if they need us for a sponsorship or for a speaker," he says. "That's something that I think has made a difference for us—being willing to go where we're needed. You could look at it cost effectively and say, plane trip, hotel, time? How many people were there? Was that really worth it? And the answer is absolutely yes, because of the relationships that we built as a result of it. Not only just solid relationships with our members and associate members, but lifelong friendships as well."
Now that retirement is here, Polka is re-focusing his efforts on his church and family. "To do my job the right way, it's meant a lot of time away, visiting with members, being at conferences and developing relationships. So, the first thing I want to do is to honor [my wife Sharman] and give my time back to her," he says. His lengthy to-do list includes volunteering, traveling, serving on industry boards and even writing a book about the history of ACAC. Maybe even a podcast, he adds. "I'd love to explore this issue of civility, not only in Washington, but also in our culture, to reach out to people from all walks of life, but also come back to the political side and say, 'why can't we get along better?'"
If anyone can teach us, Polka might just be the man.