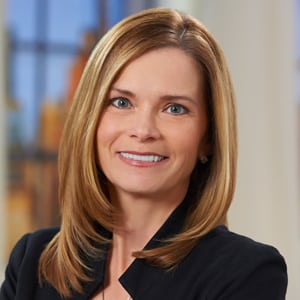 Years in Cable: 25
Education: Bachelor's degree in psychology, Connecticut State University
QVC's global growth will continue to be a top priority this year for George, who encourages and pro­motes within the network core val­ues such as teamwork, customer focus and honest communication. Dillman and her team, meanwhile, have provided tremendous support for the expansion of the QVC expe­rience into new platforms, such as Apple TV and Apple Watch, helping to align QVC with the future of retail and entertainment industries. Execs make time for charitable endeavors, as well. Campbell is an advocate for the Housewares Charity Foundation, a charity group that supports the Breast Cancer Research Fund. She also supports one of QVC's featured charities: Dress For Success.
My dream would be: For my car to be connected to the Internet of Things so it could drive me to work… I hate to drive!!!
Last show I watched not on my network(s) "Fixer Upper" — I love Joanna and Chip!!!
What was your first job? Sales­person at a department store, so retail of course!
Favorite charity event you work with: At QVC, we work with several charities that support the success and wellness of women. Our signature cause marketing events are QVC Presents FFANY Shoes on Sale and Super Saturday Live, which benefit breast cancer and ovarian cancer research.
I watch the majority of program­ming on this device: I catch my favorite shows on the traditional TV platform, and then I try to keep up with my daughter's favorite video content on my iPad.