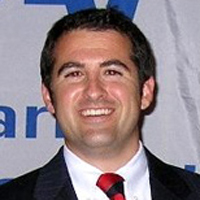 Years in Industry: 19
Education: MBA, University of Richmond; BSBA, Lehigh University
Motto I Live By: The most selfish thing you can do is help someone else.
As the third generation of his family in the cable TV industry, Walter is embracing broadband service and leading his company into the next generation, not only of the family, but of the services they offer. He sees a future with the biggest game changer to come from 10G to be right out of "The Jetsons," enabling "smart homes with true holographic screens everywhere."
My prediction for direct-to-consumer video is… Programmers will eventually allow MVPDs to also sell the service.
What item in your home or office most "sparks joy" in you? Pictures of my wife and kids. They are why I work.
Best brand campaign you've seen lately? Dunkin Donuts moving to just Dunkin.
A skinny bundle can't survive without… A superfast broadband connection
Last show binged not on your networks: "The Americans"
Last linear content you watched live: Sports, sports and more sports
Who would you cast to play yourself in the story of your life? Will Ferrell; love that guy.
How do you stay motivated in your job? Threats and opportunities keep you motivated. This industry has it all.
Latest slang phrase or hashtag you've learned from your kids? "Dad, this is lit."
Biggest challenge facing the industry? FAANGs–Facebook, Apple, Amazon, Netflix, and Google
Favorite board/card game: Dominos
Favorite podcast: "Changing the Game"
Subject you wish you'd studied at school and/or subject you studied and wish you hadn't? Latin
What quality do you look for when promoting someone? Trustworthiness. If you can't trust them nothing else matters.