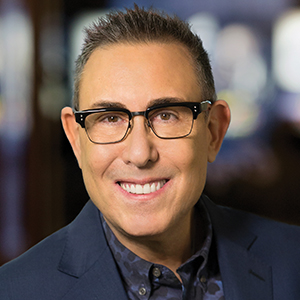 Years in Industry: 30
Education: Syracuse University
Together, these three supply the creative energy that powers AMC Networks' brands and studios. Under Barnett, BBC America increased its commitment to nature content with the launch of micro-net Wonderstruck, a 24-hour weekly dive into our world. Juris led WE tv to incredibly strong ratings growth across all key demos, including a 7% increase among total viewers. Carroll has kept AMCN in the SVOD game, with its footprint passing 2 million across Acorn TV, Shudder, Sundance Now, and UMC (Urban Movie Channel). Looking globally, Carroll has made tremendous progress with the company's SVOD efforts, launching Planet Horror in Spain.
The COVID-19 pandemic forever changed my perspective on:
The imputed value of paper towels.
Number of subscriptions to streaming services:
5
Working from home has taught me…
I hate working from home.
When restaurants open back up, my first stop will be…
Definitely not a buffet.
"Tiger King" is a thing because…
It was a murder mystery, a gay love story, a nature documentary, a music video, and a battle between good and evil featuring big cats and kittens, mullets, meth addicts and more…and that was just episode one!
First thing I'll do when back in the office:
Give it a big hug.
Product I could not live without:
Purell. Lots and lots of Purell.