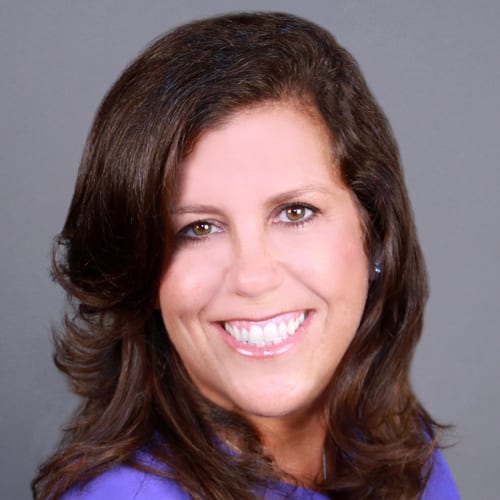 Fischer has led the network in launching a slate of programming that celebrates families by focusing on life's biggest moments. As a leader, she manages internal and external relationships while being the bridge between the content charged business development team and the team tasked to bring it to launch. "The confluence of content anytime, anywhere has changed consumer behavior and therefore a challenge for marketers," Fischer says.
What are your thoughts on the industry's current response to the #MeToo movement, and its treatment of men who have been accused of sexual harassing and/or assaulting women and men? Are there other steps you feel should be taken?
I have been very fortunate to work with both men and women leaders in media who have supported me for my intelligence, passion, and work ethic—not because of my gender. As a mother of two daughters my message to them was always to be authentic, tell the truth, have an opinion, offer solutions and never do or say anything that doesn't feel right. Most importantly, if someone disrespects you, tell them to stop. I believe the #MeToo movement has empowered women to speak the truth and open up. As a result, companies have the opportunity to change, to speak candidly about respect to their employees, and to not tolerate any bad behavior. Respect that ideas and success can come from anyone regardless of age, gender or authenticity. I believe these woman that came forward were brave to unleash their pain and prove that we need change. Bravo!
Do you see any potential backlash to the #MeToo/Time's Up movements?
I actually am hopeful that positive movement for both men and women can come out of this. I believe young male and female executives can learn mutual respect provided they have the leadership to show them. Everyone loses if we don't change.
What's a recent example of a step forward for women in the media industry?
A great example is the "Today" show replacing a male host with Hoda Kotb. It's breaking the mold of having a morning show hosted by a man and woman. Savannah Guthrie and Hoda are perfect together. There are a lot of powerful people and women in media that are thriving.
Who is an inspirational woman you admire, and why?
Hoda Kotb's life story is very inspiring. She adopted a child at 52, is an Egyptian American, a breast cancer survivor and a strong role model. She has proven life is not about age, it's about attitude. Her positivity is infectious. On a personal side, I admire my mom. She was a working mom, managed to raise five children. She was hardworking, loyal and strong. Later in life she took care of my father who was a quadriplegic from a skiing accident. Her positivity never wavered. Even though she is no longer with me, she was a light that continues to shine.
What's been the most dramatic change in your sector of the business today vs. three years ago?
The confluence of content anytime, anywhere has changed consumer behavior and therefore a challenge for marketers. However, these changes bring new and exciting opportunities.