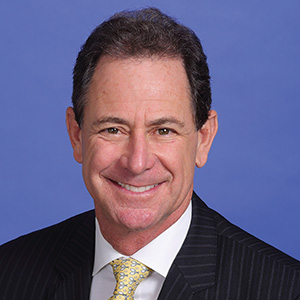 Years in Media & Broadband: Almost 40
Education: BA, Business and Sociology, UCLA
My personal superpower is: Extra battery life
How has the pandemic forever changed programming? We got where we were going, only five years faster…
What's the future of direct-to-consumer streaming look like? Back to bundled. Balancing F.A.S.T and Premium channels.
Your pandemic theme song? "You Don't Know How It Feels" — Tom Petty
My proudest professional achievement over the past 12 months is… Tennis Channel stayed on the air LIVE the day sports ended to keep fans connected and calm. We pivoted immediately to bring viewers three hours of daily live coverage—inventing safety guidelines for our studio-based host, skeleton crew, and tennis Hall of Famers, stars across the globe and analysts who joined virtually from homes before it was "a thing." We pumped up social media and UGC of people playing at home with the biggest current players, coaches, retired legends, tennis leadership representatives, tournament directors, celebrities, and fans all posting on our positive global media hub—celebrating the sport they love and getting some respite from the endless bad news of those dark day. This springboard allowed us months later take an active role in co-developing live exhibition matches between professional players well before any other sport, then coverage of the late-summer return of the men's and women's professional tours, and Tennis Channel's telecast of the delayed French Open last fall—with close to 150 people on the ground for us in Paris. I'm proud that we took a leadership position in the world of sports and helped tennis to be one of the first sports to play again, but I'm most proud that we stayed on the air live the whole time.
What's a habit you're keeping post-pandemic? Not many, but I'll need to end my habit of drinking a half bottle of bourbon at night to recover from the 12 daily hours of end-to-end Zoom and Teams calls!
How does the country narrow the digital divide? Watch more streaming tennis!
If you could host a Clubhouse chat with anyone, who would it be? Bill Murray, Frederick Douglass, Golda Mier, Arthur Ashe, Virginia Wolf
How many times have you flown in the past year? Three trips/six flights: Two to Paris for our Roland Garros coverage… (we took a team of 143 in October '20 and had no COVID-positive outbreaks while there). One trip NYC and Baltimore (part by train).
Favorite mask? One worn by someone who doesn't need to, so as to set the proper example.
My prediction for the future of regional sports networks: As media continues to fractionalize and value models shift before our eyes, the RSNs and the power of local sports will ascend further in value. Some claim that RSNs are overvalued and I could not disagree more. Think about it: all politics are local; the power of local news has never been greater, and in the end the most enduring sports cultures are driven by local teams and athletes; a tribal and indelible part of our social fabric. The RSNs partnership with local teams create multiple touch points with unshakable, generational fan bases, be they on-air sponsorships, ticketing, social media, gamification and, increasingly, through wagering. And while the RSNs are truly hyperlocal, together they have the potential to also become an integrated network of channels that reach many, many tens of millions in combined audience, and become a new and perhaps unrivaled national media force.
What sort of broadband will the average US household need in five years? As much as they can get, due to inexhaustible demand. From connected homes, autonomous transportation, 3D printing for common items, to sensors on every part of our lives, to media walls for dwellings, the gas will expand to fill whatever size pipe we can deliver directly to insatiable consumers.
What's your COVID vaccine slogan? OP BLACK VAXX – A series of Funny or Die-like short comedy pieces for social media I'm working on with my pal Omar Miller. It will use humor to puncture some of the more outlandish and alarming conspiracy theories which are preventing people of color across America from getting vaccinated at much a higher rate than whites (eg, Bill Gates is planting microchips in the vaccine to control us, the U.S. Government is using black and Hispanic folks as guinea pigs for this "unproven snake oil" vaccine, etc., etc.). Save souls with humor!
Your personal D&I epiphany? It is never enough. Systemic racism by definition means white people, no matter how empathetic, cannot possibly comprehend the truly alternate version of America that our black and brown brothers and sisters have forever been forced to endure, forever. Their total exhaustion at attempting to dimensionalize this blatant inequity over centuries is excruciating. It is finally time to fully face, and begin to end, the duality of our common origin as a nation that gave birth to the world's truest individual freedom and simultaneously justified slavery—the ownership of another human being—at the very same moment.
What are you most looking forward to this summer? People.
Last podcast listened to: "Smartless" from Jason Bateman, Will Arnett and Sean Hayes. One of these three pals brings a surprise A-list guest-friend (Bryan Cranston, George Clooney, Julia Louis Dreyfuss, Billie Eilish, etc.), at which point uncontrolled comedic havoc invariably ensues. Always disarmingly honest and full-bore hysterical.