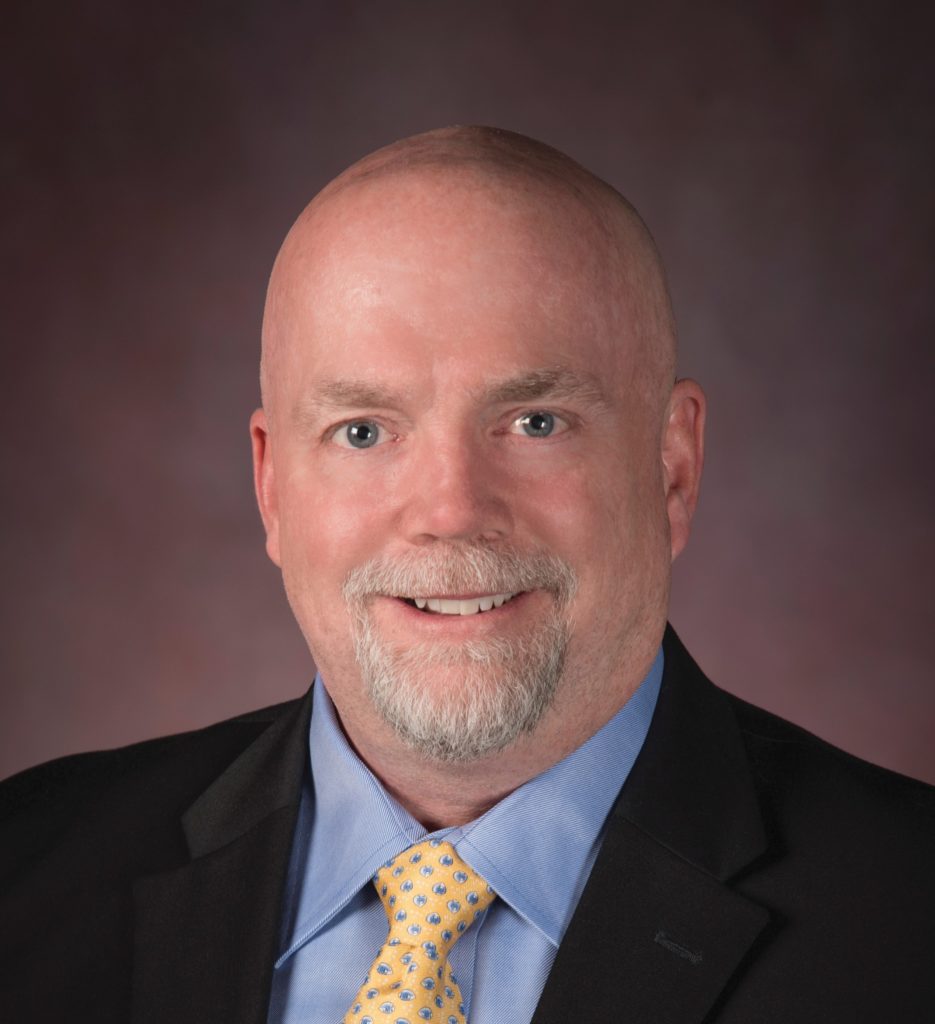 It takes a lot to shake Ken Johnson. Cable ONE COO Mike Bowker learned that very quickly when he and Johnson spent a week together visiting local offices and meeting associates as the company rolled out its "Stronger Together" initiative, a program that pairs members of the executive team to visit with all of the company's 2,700 associates.
They took many photos in front of monuments during that road trip, and the pair decided they should get selfies with a herd of cattle. "What seemed like an easy picture turned into an adventure as each time we tried to get the picture, the cows ran away," Bowker recalls. "We had a great laugh and time, and as Ken was still fairly new, it gave me the opportunity to see what a great sport he was!"
Johnson had a long history in the cable industry before arriving in 2017 at Cable ONE that prepared him to roll with all the punches of life, personal and professional. He graduated with a bachelor's degree in Computer and Information Sciences from Friends University, and went on to serve as the CTO for NewWave Communications, SureWest Communications and Everest Connections.
One of the most memorable lessons of his career came early in his days at Everest. The company was grappling with how to be one of the first to launch triple-play services, so the leadership team pulled together a group of people from the cable, telephone and utility industries to figure it out. "Everyone had an opinion about how to get things done. We could have easily floundered and succumbed to the chaos, but we didn't—we thrived," Johnson says. "The magic is in being open-minded enough to understand the strengths and weaknesses of the various individuals or groups, and humble enough to embrace what works best regardless of where it comes from."
Those experiences have shaped him into a person who welcomes all voices to the table and never asks his team to do something he wouldn't do himself.
"Ken is the type of leader that when a critical maintenance event is happening, which generally occur overnight, he is up and available to the team—demonstrating his willingness to be there and be a part of the work when called upon," Bowker says.
In his three years at Cable ONE, he's led the company in its transformation into a true connectivity business that puts the customer first. In areas like the company's managed WiFi service, Johnson has fought against adding fees for customers if their home required more access points to achieve ubiquitous coverage. And, of course, he and his team are the ones who have allowed Cable ONE's network to thrive, even in the midst of a global pandemic. He also has helped the company shift to a work-from-home environment, reinventing tools and processes to support distributed collaboration while ensuring key projects continued moving forward.
And while it's more difficult than ever to predict what comes next, Johnson is able to make a few guesses that have only been reinforced by the world's dependence on broadband, especially over the past six months. "We will be living in an increasingly virtual world where traditional location boundaries are eliminated—where your quality of life is not dictated by where you reside, but rather the quality of your connectivity," Johnson says.
Planning for that future can be challenging as tech teams attempt to keep innovating while maintaining current products, but Johnson's philosophy is simple."Know who you are as a company and what you strive to be. This makes maintaining the balance easy," he says. "We recognize that rapid advancements in AI and automation are huge drivers in customer self-service and enabling a revolutionary change in the customer experience… projects that are aligned with this are part of our long-term roadmap. Like I said, easy!"
– Sara Winegardner
Fast Facts
Johnson is leading Cable ONE's charge on DOCSIS 4.0 and the deployment of 10G service to the home.
Johnson oversees the strategic evolution of technology roadmaps related to products as well as IT and network engineering.
Johnson currently serves on the board of the NCTC.