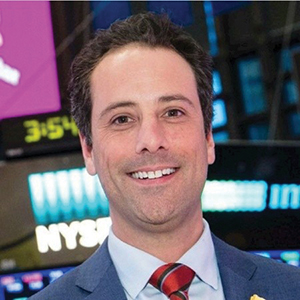 Years in Media & Broadband: 5
Education: BA, Woodrow Wilson School of Public and International Affairs, Princeton University; MBA, Columbia Business School
My personal superpower is: Speed and Resiliency. If I have a defeat, I mope about it for the rest of the day, but I then wake up the next morning born anew, ready to take another crack at things.
How has the pandemic forever changed programming? I think it's cemented the essentiality of broadband and news—which are really the two key focuses of our company. I'm proud to be part of supplying these vital tools to keep families connected to each other and the world around them.
What sort of broadband will the average U.S. household need in five years? We are currently offering 1 gig service in most of our footprint and plan to start rolling out 10 gig service next year. Streaming, gaming, and home automation are megatrends that will only require more bandwidth over time. I remember as a kid when I was excited about my 128 kbps modem speed. It seems for bandwidth the sky really is the limit as to what the consumer can make use of. In five years, VR and AR should be big use cases and I'm certain families will be excited to use 10 gig fiber to the home (FTTH) for that!
What are you most looking forward to this summer? Being out and about. Moving and shaking is key to who I am from a social and business perspective. Running into people, kismet, is key to how I find joy and opportunity.
My proudest professional achievement over the past 12 months is… Keeping our news networks on the air, nearly fully remote, during the depths of the pandemic. We've since returned anchors and team members to our studios and have emerged stronger than ever. I would also cite our strong 2020 advertising performance despite the big dip we saw in Q2 2020, when many advertisers paused or canceled campaigns during the worst months of the pandemic. Thanks to a strong political advertising season in Q3/Q4, we grew overall advertising revenue 9.1% YoY in 2020.