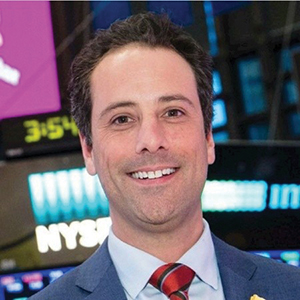 Years in Cable Industry: 4
Education: BA, Woodrow Wilson School of Public and International Affairs, Princeton University and MBA from Columbia Business School
A newcomer to Cablefax's list this year, Steinberg heads up Altice's news division, following the company's acquisition of Cheddar, which he founded. Steinberg brought Altice News nets into millions of new households this year through multiple distribution agreements, including AT&T and Verizon Fios. In June, Cheddar rolled out its 2.0 model, combining its two networks—a business news channel and a headline news network—into one, with the tagline, "News Worth Investing In." That same motto could apply to parent Altice, which is investing it the category to distinguish itself. On the advertising side, Steinberg is dealing with the same COVID-19 challenges as his peers. Helping the company weather the storm is advanced advertising division, a4 Media. Since combining news and advertising under Steinberg, the company has expanded the national sales team, expanded the client services division, and launched several new products, including Ads by Altice, a B2B product powered by a4's Ad Messenger platform, and the release of Athena 2.0, a feature-rich update to the first and only end-to-end, audience-based multiscreen data and ad solution in the country.
The COVID-19 pandemic forever changed my perspective on:
Everything. The potential for more remote work, video conferencing, and reduction in travel to be here to stay and fundamentally transform work.
The future of broadband is…
More speed for more needs that we can't conceive of today. I think everyone coming of age now will be a gamer to some extent, and that is an immediate need we can see for faster speeds and lower latency. However, it's historically things we can't predict that have led to greater needs for more speed.
Is cable recession proof?
COVID has proven more than ever how essential cable is to daily life and work. I commented to my wife last night, "Could you imagine if this happened and we didn't have broadband?"
My prediction for a new business or product that could emerge from the pandemic is…
Other than Animal Crossing for the Nintendo Switch, we have not seen a breakout online entertainment product or game really capture the zeitgeist. The closest thing has just been new programming like "Tiger King." I think we will see a game, chat service, or new social media phenomenon before this is through.
My prediction for AVODs is….
Here to stay and get bigger. We have combined our two Cheddar Networks into one mega AVOD play to capture this opportunity. Consumers will only want more free, ad supported, streaming media, especially in news and sports.
Biggest challenge facing advertising?
Uncertainty when COVID will end. Advertisers love to plan and map out their year. COVID has made that impossible. Advertisers and agencies will likely need to be more agile and fast moving, to plan in real time, and we will need to adapt to service that need.