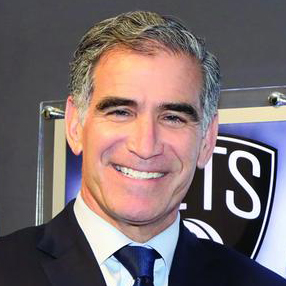 Years in Industry: 25
Education: BA, Yale University; JD, Cornell University
Motto I Live By: "Educating the mind without educating the heart is no education at all." -Aristotle
Litner hit his stride in 2018, his second full year at the helm at YES, surpassing expectations and meeting milestones. Among them, YES became the most-watched regional sports network in the country, with Yankees games on YES ranking No. 1 in the New York market in primetime and growing Yankees viewership on YES by 36%. Under his watch, YES' first-of-its-kind docuseries, "Homegrown: Path to Pinstripes," earned a New York Emmy nomination for digital & social program. With the Yankees restructuring YES' ownership, it opens the door for the net to be more nimble and aggressive in the coming year. Litner's on deck and ready to swing.
What item in your home or office most "sparks joy" in you? My first baseball mitt, circa 1968
Best brand campaign you've seen lately? I have to go with YES' current "Buzz in the Bronx" campaign featuring Chazz Palminteri.
Celebrity would you like to see on "The Masked Singer" and what would their costume be? Alec Baldwin, in an elephant costume
Last show binged not on your networks: "Escape at Dannemora" by Ben Stiller
Last linear content you watched live: Last night's Yankees game on YES, of course!
Who would you cast to play yourself in the story of your life? George Clooney, with Treat Williams as his understudy.
How do you stay motivated in your job? Every day brings a new set of challenges that feeds my intellectual curiosity and my passion for sports television.
Latest slang phrase or hashtag you've learned from your kids? That's 'lit.'
Biggest challenge facing the industry? Aggregating and engaging with younger audiences
Favorite board/card game: When I was a child, it was all about Monopoly and Risk.
Subject you wish you'd studied at school and/or subject you studied and wish you hadn't? In high school, I wish I had taken a theater course, and I wish I hadn't taken physics!
What quality do you look for when promoting someone? Intellectual curiosity, track record of high achievement, and character.