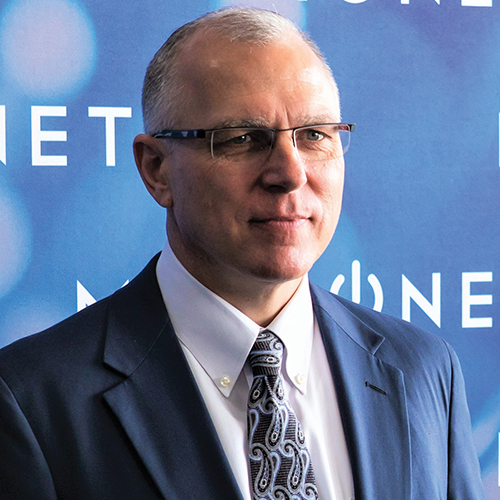 Years in Media & Broadband: My career in telecom/broadband started in 1990 before the popularity of cell phones, when pay phones were ubiquitous and we used calling cards to check our voicemail while travelling.
Education: BA, Tufts University
My personal superpower is: I connect easily with people. I know a little bit about a lot of things and am a good listener. This helps me to put people at ease when we first meet.
My proudest professional achievement over the past 12 months is… helping my team and my company navigate through Covid-19. I remember so well how anxious we all felt at the beginning as we had to learn to operate during the pandemic.
What habit are you keeping post-pandemic? I had tried for many years to use video conferencing instead of phone calls, but it never really caught on. After the last year of so many people working from home, they became very comfortable using this technology. The same is true for me and most of my calls now are video versus voice alone. I think it's a much better way to communicate.
What sort of broadband will the average U.S. household need in five years? With more people still working and learning from home even as the COVID-19 pandemic starts to subside, I see the need for reliable, fast internet speeds increasing exponentially. Driving this, as we all know from our personal experience, is that the number of connected devices in our homes continues to grow rapidly. This trend promises to accelerate as the choices for direct-to-consumer video, the adoption of the "Internet of Things," and the maturing of the functionality of the Cloud continue to grow. These secular trends play to MetroNet's strengths of providing high-speed, symmetrical and affordable connectivity — making it easy for its customers to use this service.
How does the country narrow the digital divide? Accessibility, affordability and engagement are the keys. Mayors and other city leaders currently are faced with a wide range of choices for their cities when trying to bridge the digital divide. Our strategy of building 100% fiber optic networks and connecting directly to homes and businesses without the use of public funds has proven to be a very effective approach to helping with the first two components. And now all our small towns are Gigabit cities and have access to affordable, high-speed broadband. Engagement attempts to educate around the benefits of connectivity for work, school, health, entertainment and relationships with end-users would help to further bridge the gap.
What's the future of direct-to-consumer streaming look like? Direct-to-consumer streaming provides the real choices that consumers have wanted in video for a long time. MetroNet's goal is to help its' consumers take advantage of this trend. Streaming requires fast, consistent internet speeds, and a fiber connection is the best way to deliver these services with the highest video quality. Some streaming services such as Netflix, Hulu, and YouTube TV, offer programming "live" as it airs while others provide access to a library of previously aired programs. Being able to watch your favorite programs without interruptions is very important. In order to have the best possible experience, consumers will need fast, symmetrical internet connection speeds that can accommodate multiple devices simultaneously, without buffering.