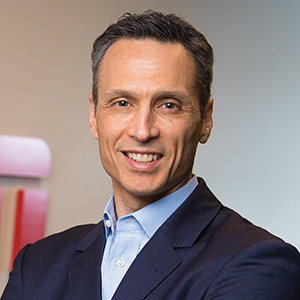 Years in Industry: 21
Education: Cornell University (B.S.), St. John's Law School (J.D.)
Despite a pandemic that has caused massive disruptions to Disney's overall business, The Mouse just powers through in no small part because of the leadership exhibited by Peter Rice and James Pitaro, co-chairs of Disney Media Networks. Rice's Hollywood sensibility—gleaned from his time at 21st Century Fox—has continued to serve Disney well as he navigates disrupted production schedules and shifting consumer consumption patterns between linear TV and streaming. And Pitaro's sports savvy has helped ESPN solidify its relevance even as major sports leagues shut down their seasons in response to the COVID-19, as the network pivoted to emerging sports events and classic footage that keeps our competitive fires burning. With these two at the helm, and an assist from last year's Disney+ launch, Disney remains poised to power through 2020 and into 2021 even stronger.
The COVID-19 pandemic forever changed my perspective on:
How to serve sports fans in new and unique ways.
Without sports on TV, I have…
Sports on TV, thanks to the resilience of ESPN's people and the deep connection fans have with our brand.
What about travel used to annoy you but that now you actually miss?
Absolutely nothing. Having dinner every night with my family has been a blessing.
The first thing I'll do when I'm back in the office is…
Walk the beautiful campus in Bristol and absorb the amazing energy there.
Working from home has taught me…
The value of a strong team.
Best TV commercial you've seen recently?
The State Farm throwback ads for "The Last Dance" created by our in-house CreativeWorks agency.
Worst job you ever had?
Painting houses in college… I wasn't very good.