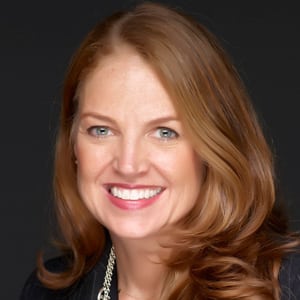 Cress isn't one to stick to the status quo. To facilitate an out-of-this-world screening experience for "One Strange Rock," she created the first-ever Astronaut Reality Helmet. The helmet was built with internal projections, free-range movement and a visor with a full field of view. Cress has always looked to empower women by telling stories of female empowerment. Her work to bring female explorers to the stage at the Cannes Girls Lounge event highlighted how women can change the world through their storytelling. She has also worked with The Girls' Lounge to highlight the need to generate a more diverse workforce. She draws inspiration from none other than her college-age daughter. "Seeing first-hand the impact that her wonder of the world has had on her own curiosity reinforces my belief in the power of this generation."
What's a recent example of a step forward for women in the media industry?
In an effort to reshape the media industry from within, we're seeing a push for more diversity behind the camera. We see more women than ever in executive development, programming and production roles, lending their expertise in writers' rooms across television shows and films, and leveling gender ratios on production crews. I'm proud to say that a number of the high-impact teams behind National Geographic's various media assets are made up of and successfully led by women—in fact, the majority of our senior leadership team is comprised of women. At the same time, we're also seeing a clear, concerted effort on creating content that empowers women by telling stories of female empowerment. We see the lens focused on the talents, plights and individual stories of women, and in my perspective, the more stories we're able to share that have a female protagonist or that narrow in on the unique issues women face, the more understanding we'll be able to cultivate around the disparities between genders. By sharing stories like we have in our feature documentary, "Jane"; the upcoming season of "Genius" which focuses on the life of Frankenstein author, Mary Shelley; and in our new Facebook community, Women of Impact, the more progress we'll be able to make as an industry.
Who is an inspirational woman you admire, and why?
My daughter. My daughter has just started college as a freshman and her outlook on the world is inspirational in itself as it's clear evidence of the passion of young people today. She inspires me every single day with her compassion and optimism. We've explored the world pretty extensively as a family and she's now studying cultural anthropology at school. Seeing first-hand the impact that her wonder of the world has had on her own curiosity reinforces my belief in the power of this generation—I see them embracing opportunities to learn, electing to be global citizens and leaning into both the challenges and endless possibilities we are faced with. She's also always been my biggest supporter and fan. Being a working parent is a delicate balancing act, but I can say that her genuine belief that my job makes me a cool and interesting mom motivates me beyond anything else!
What's been the most dramatic change in your sector of the business today vs. three years ago?
The rise of purpose-driven brands.
If there were a reality show based on your office, what would it be called?
"Behind the Shot" or "Human/Nature" or "Brand vs. Wild" … the list goes on!