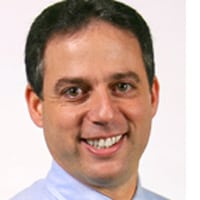 Years in Cable: 31 (including 7 in Telecom)
Education: AS/BS Electrical Engineering Technology, Penn State/Northeastern University; MBA, Clark University
Not only did Armstrong experience double-digit improvement in operating income and both top line and bottom line growth over the last year, but it also made advances on the humanitarian front. Ross accepted on behalf of Armstrong the 2017 Veteran Employer of the Year Award for its charitable efforts, which included raising eight service dogs to qualifying vets. In his acceptance speech, he acknowledged the vital contributions from both the community and Armstrong employees.
The biggest innovation in media/broadband over the last year? Widespread consumer gig speed internet!
If you wrote a "Black Mirror" episode, what dark side of technology would you explore and why? Don't watch the show, but I am told that I should. I am fascinated by the amount of privacy we have given up as a society through the use of social media, web browsing and "free" apps that track our every move. It would be something along those lines.
Favorite restaurant: Off the Hook in Warrendale, PA. Fresh fish flown in daily!
Best advice your mom or dad ever gave you? Mom: "You can do anything you put your mind to." Dad: "Lead by example; and, Do the things others don't want to do."
Worst advice your mom or dad ever gave you? "Turn that music down!"
An area where media/broadband could use improvement? I think we get a bad rap as an industry. We need to better channel the good things we do for our customers and communities.
Your social media platform of choice? I am more of a taker than a giver in this regard. I'm on Facebook for family, Twitter for news and entertainment, and LinkedIn for work.
Bitcoin – pro or con? Don't know yet, but find it very interesting.
Favorite short-form content? I use YouTube to learn about things I am working on. I am not currently locked into any channels or podcasts. I am a big fan of audio books to use my windshield time more effectively.
What would be the name of the reality show based on your company? The Whirlwind!
What product or service could you not live without? My iPad for sure! Thank you Steve Jobs!
What does the future look like for skinny bundles and flexible packaging? After price, the next largest objection to our video product is packaging. Consumers want more choice. We have "Skinny Bundles." We call them Choice Packages, but are limited by our programming agreements in how they are implemented. I remain hopeful that someday we, as an industry, will be able to crack this nut. OTT and direct-to-consumer models are starting to provide some new options for consumers, yet it is a very fragmented experience. It would be nice if we could be proactive on this subject, instead of reactive. Any programmers reading this that want to try something new, please give us a call!
Last show I binged not on my network(s): "Narcos". I am currently binging "The Office" for a second time. Michael Scott is so wrong he is right.
If you could have a superpower, what would it be and why? Power to Heal. Do I need to explain?
Favorite restaurant: Off the Hook in Warrendale, PA. Fresh fish flown in daily!
What's the first thing you read in the morning? I'd say Cablefax but I actually read it in the evening when it comes out. In the morning, it would have to be ACA's Media Sweep. Yes, I am a cable nerd…