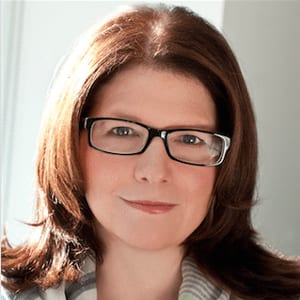 Years in Cable: 20
Education: Oxford University; London School of Economics; Wharton AMP
One Word that Best Describes Me: Curious
Bennett and Sharenow are two of the reasons A+E Networks is at the top of its game. Promoted in September to the helm of History after launching FYI and overseeing the successful LMN rebrand, Bennett led History to finish 2015 in the top 10 among A25-54 for the seventh consecutive year. Building on recent specials on Donald Trump and the Paris attacks, look for her to continue to probe more recent historical events—not to mention the premiere of miniseries "Roots." Also promoted last year, Sharenow is steering innovation at A&E and Lifetime, including the concert Shining a Light: A Concert for Progress on Race in America and accompanying special, which aired across the A+E Nets portfolio and reached 12 million Total Viewers. He also oversaw Lifetime's original scripted series "UnREAL," which launched as the network's most critically acclaimed scripted series.
What does the future look like for skinny bundles and flexible packaging? The future looks premium and more flexible.
Virtual reality is… getting really interesting.
Last show I watched not on my network(s): "Narcos" & "O.J."
If this election year was a reality TV series, it would be called… "Your Vote Really Counts"
I watch the majority of programming on this device: A big smart TV set
My favorite newfound hobby: Border collie agility training
Favorite vacation spot: Haute-Alpes, France
My typical breakfast is: oatbran and berries
My Starbucks order: I order at an artisanal place in Grand Central Station… but it's an Americano without trimmings, thanks!