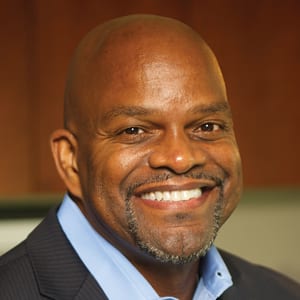 Years in Industry: 40
Education: MBA, Finance; MBA, Marketing; BA, Business Administration, American University; Associate's degree in electrical engineering technology, Regis University.
Motto I Live By: Thanks to my very wise mom, I have always followed her advice to "treat others how they want to be treated." So far it hasn't let me down.
As the 2018 board chairman for the Virginia Cable and Telecommunications Association, Myers' leadership helped the Commonwealth remain a leader in broadband and telecommunications. He also has been involved with tHRive, a regional group launched by the Hampton Roads Chamber to help young professionals through real world career advice. And as the executive sponsor of the Cox Virginia Millennial Council, he is making sure the next generation of business leaders have the necessary skills and experience to pilot Virginia's future successfully.
What item in your home or office most "sparks joy" in you? Have you ever slept on a smart bed? I've never met a home automation gadget I didn't like (I have more than 60 in my home). But if I had to choose just one, hands down my smart bed definitely sparks joy… and even better, a good night's sleep.
What quality do you look for when promoting someone? It's simple… the first quality is integrity, followed closely by kindness and passion.
Subject you wish you'd studied at school and/or subject you studied and wish you hadn't? I'd love to pursue a PhD in organizational leadership
How do you stay motivated in your job? I get energy from all of the great people I am so lucky to work with … and an added boost from my daily 5am visit to the gym.